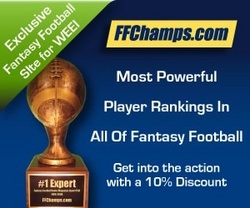 "WEEI has the most engaging content and on air fantasy football discussion of any sports radio station in the Country...FFChamps.com is very excited to be involved with WEEI" -Bill Enright, General Manager of FFChamps.com
Boston, MA (PRWEB) July 21, 2010
As the start of NFL training camp approaches, Fantasy Football Fans nationwide are starting to get underway, with the offline magazines now blanketing the newsstands and fantasy leagues meeting to determine new rules and this year's Draft Order.
Fantasy Football Champs, FFChamps.com, is excited to announce that it has become the exclusive online Fantasy Football Draft Kit and advice site for WEEI, the number 1 rated sports radio station in the United States. FFChamps.com is giving anyone who signs up for FFChamps.com through its partnership with WEEI, at FFChamps.com/WEEI 10 percent off its already best in-industry value.
"If you want to win the cash, the trophy, and the bragging rights in your Fantasy Football League, then FFChamps.com will help you make that happen," said Bill Enright, General Manager of FFChamps.com. "FFChamps.com has the best all time record in the history of Fantasy Football Index Magazine's Expert Poll and look forward to continuing to keep that track record intact while we help you win. FFChamps.com's Mock Draft tool is the state of the industry, and is better than CBSSPORTS or Yahoo's. If you use our Mock Draft tool and industry best draft kit, you will go into your Fantasy Football Draft more prepared than everyone," he added.
FFChamps.com's mathematically and human generated player rankings, the Fantasy Football Champs Performance Index also known as the FFCPI, is the flagship product and the key to FFChamps.com's extraordinary results for fantasy football dominance.
"Unlike the rankings and projections in magazines that were printed nearly two months ago, ours are updated daily", said Enright.
"WEEI has the most engaging content and on air fantasy football discussion of any sports radio station in the Country. Plus their great information and conversations carry over to their website. FFChamps.com is very excited to be involved with WEEI. All you need to do is visit FFChamps.com/WEEI and you'll see why we are a great match", added Enright.
FFChamps.com also announced that for the first time, they will be offering season long fantasy football competitions and challenges to their customers, providing them both the information needed to win and the games in which to use some of that information.
About FFChamps.com/Fantasy Football Champs LLC
Since 1999, FFChamps.com/Fantasy Football Champs has been the leader in providing high level fantasy information, player rankings, content, and one-to one advice to thousands of fantasy football players nationwide. FFChamps.com is rated the all time most winning fantasy football expert website from 1999-2008 in the Fantasy Football Index Magazine Expert Poll.
For more information contact:
Sarah Perry
188 Needham Street #255
Newton, MA 02464
617-517-9316
###