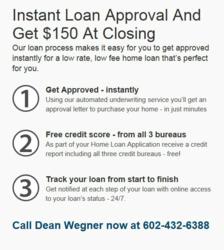 "If your on the fence, you can save some money by acting before April 1st, 2013"
Scottsdale, AZ (PRWEB) March 07, 2013
Beginning April 1, 2013, FHA (Federal Housing Administration) will change their MIP (mortgage insurance premiums) on loans. How this will affect you? If you plan purchasing a home using FHA as opposed to a conventional loan it will cost you more money.
By law, FHA is required to maintain a 2% reserve on its Mutual Mortgage Insurance fund (MMI). Because of the bad loans given in the early 2000's, FHA had a drop in its MMI to 1.44%. In an effort to rebuild to it's original 2%, FHA has made the move to increase its annual mortgage insurance premiums on most FHA backed mortgage loans. This equals out to you (the borrower) as an increase of 10 points annually, or 0.10 percentage points. The increase applies to all loan terms under FHA, including 15 and 30 year fixed rate mortgages, which are the two most popular.
The FHA also announced that it is reversing its policy which allows FHA-backed homeowners to cancel mortgage insurance premiums once the outstanding principal balance of an FHA loan reaches 78% of the original balance. Starting 4/1/13, you may no longer remove the MIP throughout the life of the loan if the beginning loan balance is higher than 90% of its appraised value. This will remain true for purchases and refinances that fall in this category. If the loan balance is 90% or lower of its appraised value then the MIP must be paid for 11 years (this change takes effect June 3, 2013).
FHA mortgages typically cater to first time buyers who only have the minimum of 3.5% to put down or buyers with less than stellar credit. In an effort to minimize their exposure to these sometimes riskier loans, FHA has decided to increase their premiums by .1% on most loans they insure. For the average priced home of $250,000, this is about a $20 increase per month.
People looking to buy a home with FHA financing should do so before the April 1st change. As long as a property address people will not be affected.. There is a small window left for borrowers with less than 20% down to capture the current FHA rules!
Consumer Finance Expert Dean Wegner is a leader in housing with over 18 years of experience. Dean is Vice President of residential lending for Guaranteed Rate Mortgage in Scottsdale, AZ. Dean is a member of over 25 financial organizations and a Certified Consumer Credit Counselor. He has spoken to the media about housing over 1,000 times, including cover stories in The USA Today and appearing on CNBC's "On The Money". Women's Entertainment Network (WeTV) features Dean as the Financial Guru in their hit reality show "Downsized." Dean is also an accomplished author and his recent release "Life After Foreclosure" is available in book stores nationwide. Dean owns a Real Estate School and wrote the 255-page guidebook," How to Pass the Arizona Real Estate Sales Exam". He also shares his expertise as a business coach for four years with The CORE Training, Inc. His community involvement includes being a Rotarian, a Board Member of Big Brother Big Sisters of Arizona and a founding member of Uncle Skate Charity. Dean lives in Arizona and enjoys spending time with his three wonderful daughters.