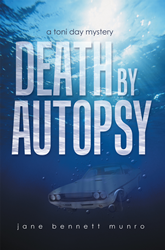 TWIN FALLS, Idaho (PRWEB) December 17, 2018
Author and career pathologist Jane Bennett Munro has released five novels in "The Toni Day Series", with "Death by Autopsy" being the fourth installment.
The story follows Toni Day, M.D., crime investigator and pathologist for Perrine Memorial Hospital. She is faced with a Pathologist's worst nightmare when her deceased co-worker, Beulah Pritchard, comes back to life, and dies again, on the autopsy table.
The story goes on to follow Toni as she tries to understand why Beulah drove her car off a snow-covered road with her dead husband's body inside, why Beulah's estranged sister suddenly gets involved, and who is really to blame for the death of Beulah and her husband.
Bennett Munro, who herself has over four decades in pathology experience, incorporates her own medical and forensic knowledge into her grisly descriptions of her book's victims, offering readers a realistic and gritty story that will leave them riveted.
"Death by Autopsy"
By Jane Bennett Munro
ISBN: 9781491744796 (Softcover), 9781491744802 (Electronic)
Available at the iUniverse Online Bookstore, Barnes & Noble and Amazon
About the author
Jane Bennett Munro holds a medical degree from the University of California, Irvine, and is certified in anatomical and clinical pathology. A hospital-based pathologist for 41 years, Bennett Munro has some experience working in forensics. She currently resides in Twin Falls, Idaho. To learn more, please visit http://www.janebennettmunro.com.