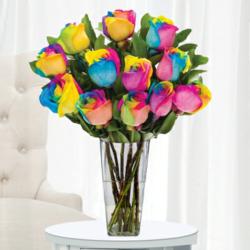 "The combination of very high elevation, perfect year-round climate and incredibly fertile volcanic soil make it the perfect place to grow large beautiful roses," a spokesperson said
Orlando, FL (PRWEB) May 02, 2013
Gilbert Baker created the Rainbow Flag 35 years ago this June and nowhere will that flag fly higher and prouder than "Orlando GayDays 2013 May 28-June 3." Now FiestaRoses.com (http://www.FiestaRoses.com) is celebrating Baker's artistic statement with its "Rainbow Roses" collection.
In addition to its Rainbow Collection, FiestaRoses.com offers a wide variety of hues, including Aqua, Blue, Emerald, Kiwi and Purple. They also come in bi-colors, like Dreamsicle (orange-white), Fire (red-white), Ice (blue-white), Inspiration (purple-white), Lucky (green-white) and Sunshine (yellow-white). The company can provide overnight delivery to anywhere in the continental United States.
Fiesta Roses make a lasting impression, and nowhere is that more evident than in the quotes from celebrities on the Testimonial page of the company's website: http://www.FiestaRoses.com/celebrity_testimonials
"These Fiesta Roses are the sickest flowers I've ever seen. KU Colors baby! Rock Chalk!"—Victor Ortiz
"Oooooooohhhh the most beautiful six-foot roses just came to me!!! Yes!!! Six-foot tall!!! http://www.theultimaterose.com These will blow UR mind."—Kirstie Alley
"I can't get over these flowers @georgelopez sent me they are amazing."— Kelly Osbourne
"Have you ever seen a rose this tall??"—Eva Longoria
"Now these are roses!!"—Snooki
The company, which is located in Brevard County—along what is commonly known as Florida's Space Coast—provides overnight delivery to anywhere in the continental United States. Its facilities feature refrigerated storage and top-quality processing systems.
According to the company, Fiesta Roses are cultivated in Ecuador in South America, high in the Andes Mountains.
"The combination of very high elevation, perfect year-round climate and incredibly fertile volcanic soil make it the perfect place to grow large beautiful roses," a spokesperson said. "It is our mission to provide our customers with the freshest, highest quality and most unique fresh-cut floral products in the world."
Each rose is carefully inspected and must adhere to very strict standards. Why such care? Because only the roses know which one will spark a special memory.
No doubt many memories will be made May 28-June 3 at "Orlando GayDays," where over 150,000 attendees are expected visit more than 40 citywide events. GayDays will be hosted at the Doubletree by Hilton Orlando at SeaWorld, which is located about 65 miles north and east of the Fiesta Roses headquarters in Melbourne.
For more information about Fiesta Roses and its various products, visit http://www.FiestaRoses.com. The toll-free number is 1 (800) 986-2918. Fax is 321-622-6958. Business hours, on the east coast, are Monday through Friday, 9 a.m. to 5 p.m. The address is 295 North Drive, Suite D, Melbourne FL 32934.
ABOUT: Fiesta Roses is based Melbourne, FL, along what is known as Florida's Space Coast. The company specializes in quality roses that are cultivated, classified and inspected to maintain Fiesta's high standard. It is a member of the Business Alliance for Secure Commerce and associated with Flor Ecuador and The Rainforest Alliance. Fiesta Roses is a quality client of Print & Radio (http://www.PrintAndRadio.com).
###