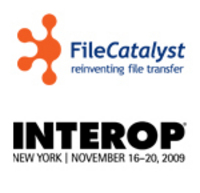 The new Outlook plug-in for FileCatalyst Webmail makes an already easy-to-use product even easier.
Ottawa, ON (PRWEB) November 17, 2009
Unlimi-Tech Software, Inc. will be at Interop New York to showcase the FileCatalyst suite of accelerated file transfer solutions. The Interop Expo is held from November 18th to November 19th at the Jacob Javits Convention Center.
The product suite presented at the show includes:
FileCatalyst Direct
FileCatalyst Workflow
FileCatalyst Webmail.
A preview of the new FileCatalyst Outlook Plug-in will be demonstrated, and details on the new FileCatalyst AMIs for deployment on the Amazon Elastic Compute Cloud (EC2) will be revealed.
FileCatalyst technology is completely software-based, and is designed to overcome network performance bottlenecks to maximize use of available bandwidth. Improved file transfer speeds combined with incremental transfers and on-the-fly compression provide real-world increases of up to 100X (or more) over traditional file transfer methods.
The FileCatalyst platform consists of: FileCatalyst Direct, a point-to-point transfer system that offers advanced scheduling and administration features; FileCatalyst Webmail, which allows end users to send files of any size to anywhere in the world using only the recipient's email address; and FileCatalyst Workflow, a web-based system which allows content partners to submit and track digital content from source to sink.
"Our product line continues to grow, based on emerging trends as well as the feedback of our clients," says John Tkaczewski, President of Unlimi-Tech. "The new Outlook plug-in for FileCatalyst Webmail is one example, making an already easy-to-use product even easier. In addition, we've responded to numerous requests for Amazon Cloud integration by providing AMIs that can be purchased both by the hour and by the month."
For more information about FileCatalyst technology, please visit us at booth 442 or on the web at http://www.filecatalyst.com
About Unlimi-Tech Software:
Located in Ottawa, Canada, Unlimi-Tech Software Inc. is a world leader in file transfer solutions. Founded in 2000, the company has more than 900 commercial and government clients and a user base of over 1 million. FileCatalyst, Unlimi-Tech's flagship product, is a software-based solution designed to accelerate and optimize file transfers across global networks.
###