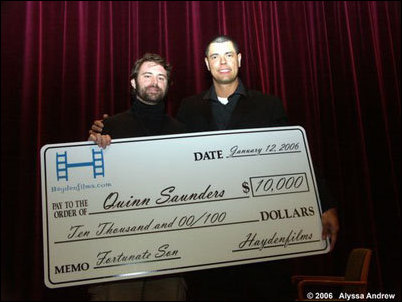 Kutztown, PA (PRWEB) September 27, 2006
It's time to vote for the winner of the Second Annual Haydenfilms Online Film Festival. Featuring 50 short films from ten countries, the Haydenfilms Online Film Festival runs from September 13 through November 15, 2006.
After reviewing more than 195 international entries, an expert panel of judges has selected the top 50 films competing for a $10,000 cash prize, plus other prizes from sponsors such as Akimbo and Write Brothers. The top four filmmakers will have their films shown during the winner's ceremony in January 2007 in New York City.
Finalists for the festival submitted short films no longer than thirty-five minutes to be reviewed by a unique, professional judging panel consisting of national media professors and film industry experts. Each judge viewed and voted on the films, and their top 50 selections have been made available online at http://bside.haydenfilms.com
Each film will be available for voting, with the online community making the final decision on the winner. Through a partnership with Bside Entertainment, Haydenfilms members will be able to interact with the filmmakers through blogs, slide shows, and film reviews. All Haydenfilms members who vote online will be entered into a drawing for a $250.00 Viewer Appreciation Award, which will be chosen at the end of the festival voting period in November.
Haydenfilms Online Film Festival was among the first solely online film festivals, beginning in October 2004 as a way for independent filmmakers to showcase their works to the online community. Of the various online film festivals, they were the first to accept all short films regardless of genre, and the first to offer a $10,000 cash prize to the winning filmmaker. Submissions for Season Two were accepted until July 15, 2006 and include a wide variety of films including student submissions, animation and documentary formats.
The Online Film Festival is just one component of Haydenfilms.com, which is quickly becoming known as the premier online resource for independent filmmakers. In addition to the Festival, the website offers its members industry news, job and resume posting, message boards and shopping for film-making software and equipment.
For more information on the Second Annual Haydenfilms Online Film Festival, please visit http://www.haydenfilms.com.
###