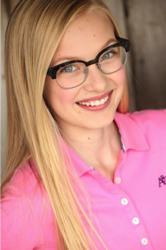 "I was so thrilled and surprised when I heard that I received this award! I really enjoy making music videos, but this was my first attempt at a short film and I'm so grateful that it was so well received. I definitely look forward to making more films!"
Palm Beach, FL (PRWEB) May 16, 2013
The Student Television Network held its 2013 Spring Nationals competition with entries from middle and high school students from across the United States. Students submitted videos covering a number of categories. In the Children's Story division, first place honors were given to Miranda Matthews, an eighth grade student at Pine Crest Middle School in Boca Raton, FL.
The stop motion short film, Purple, was written, directed, and accomplished entirely by the talented middle schooler, Miranda Matthews. The talented up and coming filmmaker is daughter to Robert and Mia Matthews of Palm Beach, Florida. Miranda will be attending Oxbridge Academy of the Palm Beaches in the fall.
She delightfully tells the original story about two lumps of clay who find that by being together they can transform into something extraordinary. Miranda captures the light-hearted tale through the arduous art of stop motion Claymation, an animation technique used to make a physically manipulated object appear to move on its own. Though the video is brief, lasting just over three and one half minutes, the number of film clips and hours spent editing are staggering.
When asked how he felt about his student's undertaking, Mr. Jared Svendsen answered, " Miranda boldly took on the challenge of doing a Claymation film as her final project in the 8th Grade Film Production class. In addition to the laborious logistics of pulling off such a filmmaking endeavor, Miranda decided to take this on by herself."
Some may be surprised by the skills of the young Miss Matthews. Her artistic maturity is recognizable when in what appears to be the finale scene of her award winning film, the viewer learns that the actual story has just begun. Perhaps Miranda Matthews is preparing for a sequel.
"The success of the film speaks volumes about Miranda's passion for the process and dedication to her artistic vision. She is very deserving of this national recognition and it has been a pleasure to work with her during the 7 week course." continued Miranda's video teacher, Jared Svendsen.
The 2013 Student Television Network (STN) Spring Nationals included 10 high school and 2 middle school categories. Entries were received from schools from areas throughout the United States. All entries were judged by professionals in the industry.
All STN contest entries help support the important work of STN. Those wishing to learn more about the STN or receive a printable list of all the winners, may go to: http://www.studenttelevision.com/contests/springnationals.htm.
Miranda Matthews' award winning film, Purple, may be viewed at: http://vimeo.com/65985502.
For Public Relations Information Contact:
Fat Brain Interactive
press (at) fatbraininteractive.com
http://fatbraininteractive.com
# # #