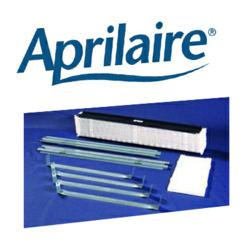 Fresh Ideas for Indoor Air! -Aprilaire
Charlotte, NC (PRWEB) April 25, 2013
Filtersfast.com, the leading online retailer in water filters and air filters, offers residential and commercial customers a limited-time exclusive deal from Aprilaire. During the month of April, consumers can still take advantage of the opportunity to upgrade from the Aprilaire 213 to the 1213 or Aprilaire 413 to the 1413 Media Replacement Filters. There is still time to take advantage of this exclusive step-up offer at no additional cost.
Customers currently using the Aprilaire 213 Filter Media Replacement that fits Aprilaire and Spacegard Models 2210 and 4200, can step-up to the Aprilaire 1213 Upgrade Kit for the same price as the Aprilaire 213 Replacement Filter. Customers using the Aprilaire 413 Replacement Filter also have the opportunity to step-up to the Aprilaire 1413 Upgrade Kit that fits the Aprilaire and Spacegard 2410 and 4400 Air Cleaner Models, at the same price as the Aprilaire 413 Replacement Filter. Filtersfast.com is offering this exclusive replacement filter upgrade promotion through April 30, 2013.
The mission of Aprilaire is to provide superior indoor air quality products for new and existing homes, as well as businesses. Aprilaire products are built to provide consumers with the cleanest and healthiest air possible. Here are a few reasons to take advantage of this Upgrade offer at no additional cost and while supplies last.
1. Upgrading nearly doubles the air cleaning efficiency of existing Aprilaire or SpaceGard Air Cleaners.
2. Upgrading decreases the amount of contaminants which can cause sinus irritation, allergic reactions and asthma attacks.
3. Upgrading increases the life of heating and cooling systems.
4. Upgrading helps heating and cooling systems save energy by running at peak efficiency.
5. This one-time upgrade will help to improve the air cleaner for a lifetime.
Filtersfast.com strives to add to their customer's overall quality of life, by simplifying a sometimes mundane, yet very necessary task with regular filtration maintenance. The company remains fully committed as the authoritative resource in air filters and water filters. They offer first-rate products at the best competitive prices. For more information about their wide range of air filters, water filters and products by Aprilaire, visit http://www.filtersfast.com or call their customer service department at 1-866-438-3458.