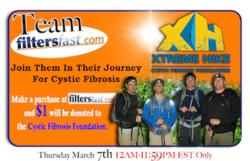 The Cystic Fibrosis Foundation is leading the charge in the development of new and innovative therapies, but the harsh reality is that the median life expectancy is still only 37 years. -Deirdre Brand, CFF Development Director
Charlotte, NC (PRWEB) March 07, 2013
Ray Scardigno, President of Filtersfast.com and Team Filters Fast are doing their part to give back to the community, by participating in the Cystic Fibrosis Foundation "Xtreme Hike" on Saturday April 20. Team Filters Fast will hike 33.4 miles through the famed Appalachian Trail to raise money and awareness that will help to find a cure for this fatal genetic disease that strikes children and young adults alike.
Cystic Fibrosis, an inherited chronic disease, affects the lungs and digestive system of about 30,000 children and adults in the United States (70,000 worldwide). Helping consumers maintain clean indoor air is part of Filtersfast.com's mission. For one day only, Thursday March 7, 2013, with each Filtersfast.com order, the company will donate $1.00 to the Cystic Fibrosis Foundation. To sweeten the deal even more, customers can take advantage of complimentary economy shipping, for any order over $75.00 within the Continental United States. As the largest online retailer of air filters and water filters, this event will help to raise money that will allow Cystic Fibrosis patients to take another breath or perhaps hike up a mountain trail one day.
In a statement from Deirdre Brand, Development Director of the Charlotte Chapter of the Cystic Fibrosis Foundation, "Cystic Fibrosis (CF) affects the lungs and digestive systems of about 30,000 children and young adults in the US. The Cystic Fibrosis Foundation is leading the charge in the development of new and innovative therapies, but the harsh reality is that the median life expectancy is still only 37 years. Because of the generosity of friends, family and co-workers over the past two years, the "Xtreme" hiking event that began as a long and painful trek with a few buddies just 4 years ago has now raised over $1,000,000. The Foundation receives no federal funding and depends solely upon the hard work and generosity of community-minded companies and individuals."
Donors can contribute more by going directly to Team Filters Fast Cystic Fibrosis donation page and donate directly to the Cystic Fibrosis Foundation. Any amount that you contribute will go a long way in finding a cure for this disease. All donations are 100% tax-deductible. Join the list of proud supporters for the Xtreme Hike to help find a cure. Monetary gifts will be used for investing in programs vital for supporting Cystic Fibrosis research, care and education.
Filtersfast.com strives to add to their customer's overall quality of life, by simplifying a sometimes mundane, yet very necessary task with regular filtration maintenance. The company remains fully committed as the authoritative resource in air filters and water filters. They offer first-rate products at the best competitive prices. For more information about their wide range of air filters and water filters, visit http://www.filtersfast.com or call their customer service department at 1-866-2438-3458.