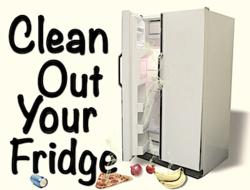 Bacteria grows most rapidly in the range of temperatures between 40 and 140 degrees Fahrenheit, the "Danger Zone," some doubling in number in as little as 20 minutes. A refrigerator set at 40 degrees Fahrenheit or below will protect most foods. -USDA
Charlotte, NC (PRWEB) November 15, 2012
Filtersfast.com, the leading online retailer of air filters and water filters since 2004, offers health related suggestions to make sure the kitchen does not emit any foul odors as the holiday season approaches. November 15 is National Clean Out Your Refrigerator Day and with Thanksgiving Day right around the corner, health officials advise consumers to keep a clean and tidy refrigerator in order to prevent the transmission of certain bacterial infections, such as listeriosis.
Refrigerators are the most important electrical appliances for keeping food safe that consequently slow down bacterial growth. According to the U.S. Department of Agriculture, "Bacteria grows most rapidly in the range of temperatures between 40 and 140 degrees Fahrenheit, the "Danger Zone," some doubling in number in as little as 20 minutes. A refrigerator set at 40 degrees Fahrenheit or below will protect most foods."
As a friendly reminder, after cleaning and discarding any spoiled food in the refrigerator, Filtersfast.com recommends using the Whirlpool Refrigerator and Ice Cube/Freezer Deodorizers to absorb pungent, unpleasant odors that circulate in the refrigerator and freezer. It is important to replace refrigerator water filters as recommended by manufacturers, to prevent unabsorbed water contaminants and bacteria from saturating the filter and forcing it to leak contaminants into processed water. Granular activated carbon (GAC) refrigerator filters attract chemicals and impurities that trigger bad taste and odor.
Another overlooked way to repel embarrassing unpleasant odors in the kitchen is to replace kitchen appliance filters. Microwave oven and range hood filters help to extract airborne odors and particles generated by stove top or microwavable meal preparation. Charcoal and Polysorb filters absorb pollutants and should be replaced within six to nine months.
Since 2004, Filtersfast.com is fully committed to all things filtration. The company strives to add to their customer's overall quality of life by simplifying a sometimes mundane, but very necessary task. Filtersfast.com offers first-rate products at the best competitive prices. For more information about their wide-range of air and water filtration products, along with the assortment of odor-reducing products for the kitchen, visit http://www.filtersfast.com.