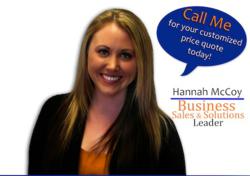 Call me today for a customized price quote for your business or organization. - Hannah McCoy, Filtersfast.com Business Sales & Solutions Leader
Charlotte, NC (PRWEB) March 28, 2013
Filtersfast.com, the leading online retailer of water filters and air filters announces the introduction of their new commercial business and sales solutions department, for bulk water filter and air filter customers. The demands of operating an organization comes with its share of stress triggers and knowing that someone is diligently working in the best interest of a business is reassuring to business owners.
Hannah McCoy, Business Sales and Solutions Leader for Filtersfast.com will customize price quotes for businesses and organizations. In addition, Hannah will act as the pipeline for personalizing, developing and maintaining a sales relationship with commercial consumers for guaranteed satisfaction. Here are some valuable benefits of having a Business to Business account with Filtersfast.com:
1. If businesses have a Resale Certificate, are a government agency or a tax exempt organization, they may be eligible for discounted pricing.
2. Filtersfast.com offers NET30 Terms to qualified applicants.
3. Email or fax purchase orders directly to the B2B department for easy and convenient processing.
4. Expedite shipping with the use of our Filters Fast Shipping Account or through a company's own freight account.
5. Receive personalized service by professionals dedicated solely to Business to Business customers.
Filtersfast.com offers competitive prices well below retail. Their mission is to provide consumers with the best product, price and service in the industry. Every customer has different needs and expectations. The company will address and exceed them all. Browse through Filtersfast.com product categories that include filters for: air, water, pools and spas, refrigerators, reverse osmosis, faucets, humidifiers, food service, industrial air and industrial water.
Since 2004, Filtersfast.com remains fully committed as the authoritative resource in air filters and water filters. The company strives to add to their customer's overall quality of life by simplifying a sometimes mundane, yet very necessary task. They offer first-rate products at the best competitive prices. For more information about their wide-range of water filters, air filters, refrigerator water filters or pool and spa filters, visit http://www.filtersfast.com. Call Hannah McCoy at 704-234-3732 or email her at b2bsale(at)filtersfast(dot)com for your personalized quote today.