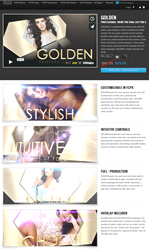 Our growing library of themes have given our users many choices and the Golden theme adds a professional style to that library
Aliso Viejo, California (PRWEB) October 10, 2014
Pixel Film Studios FCPX plugin and theme designers have announced the release of the Golden theme for Final Cut Pro X.
"Our growing library of themes has given our users many choices and the Golden theme adds a professional style to that library," says Christian Austin, CEO of Pixel Film Studios. "Golden theme is a professional and clean styled theme that our users will love."
Golden gives the user several controls over the environment so they can customize the environment to get the perfect look. Golden gives the user control over the background, animation, text, and more with easy to use controls, so the user can create a professional video quickly.
Golden provides the user easy to use and intuitive controls so the user can spend more time enjoying their creation and less time having to deal with keyframes and editing. Golden makes it easy to create a professional video quickly.
Golden gives the user every tool they need to create a professional video. Included with the theme package are lower thirds, transitions, camera presets, a title screen, a text screen, a logo key, a background key, and more.
Included with the Golden theme package is an overlay that comes with a variety of controls. The overlay included a lights with an on-screen control that gives the user control over the position. Customization options include, opacity of particles, opacity of bokeh, color of light and more.
Established in 2006, Aliso Viejo, California-based Pixel Film Studios is an innovative developer of visual effects tools for the post-production and broadcast community. Their products are integrated with popular non-linear editing and compositing products from Apple FCPX. All Apple, the Apple logo, Mac OS X, and Macintosh are registered trademarks of Apple Inc. in the U.S. and/or other countries. All other trademarks and trade names are the property of their respective owners.