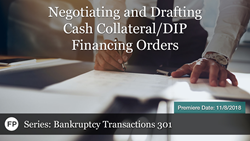 This webinar helps advanced business reorganization practitioners and advisors gain insight into best practices in drafting, negotiating, and presenting cash collateral and DIP financing orders in complex reorganization proceedings.
CHICAGO (PRWEB) November 07, 2018
Corporate transactions are fraught with complicated legal, business, and financial issues. And transactions in the context of a bankruptcy proceeding often adds a further layer of complexity. Whether representing an asset purchaser seeking to acquire assets "free and clear" of liens and encumbrances; trading claims against a bankrupt company; or negotiating and drafting orders governing the use of a bankruptcy company's cash, businesses and their advisors must have a robust understanding of the issues they face. This Financial Poise BANKRUPTCY TRANSACTIONS-301 series provides tools for business owners and their advisors to navigate through the landscape of bankruptcy transactions, demystify esoteric concepts, and discuss best practices for advanced professionals working on these matters.
The third and final episode of the series, Negotiating and Drafting Cash Collateral/DIP Financing Orders, airs on November 8th at 3:00 PM CST (Register Here) and features Moderator Mark S. Melickian of Sugar Felsenthal Grais & Helsinger. He is joined by David Lorry of Versa Capital Management LLC, Gary Marsh of Dentons US LLP, and Christopher B. Wick of Hahn Loeser & Parks LLP.
Every company needs access to cash to fund its operations. Companies in bankruptcy are no different. But how should a company planning to enter bankruptcy approach this issue if all of its cash is tied up by a secured lender? What will a bankruptcy judge say when the company asks her permission to use cash on terms presented by its lender? How should lenders, debtors, and creditors approach negotiations over the terms of a cash collateral order or debtor-in-possession (DIP) financing agreement? This webinar focuses on answering these questions for advanced business reorganization practitioners and advisors from the perspective of all parties to a negotiation, as well as addressing best practices in drafting, negotiating, and presenting cash collateral and DIP financing orders in complex reorganization proceedings.
The BANKRUPTCY TRANSACTIONS-301 webinar series is produced by Financial Poise.™ All episodes premiere live through West LegalEdCenter and then are made available on-demand.
As with every Financial Poise Webinar, each episode is delivered in Plain English understandable to investors, business owners, and executives without much background in these areas, yet is also valuable to attorneys, accountants, and other seasoned professionals. And, as with every Financial Poise Webinar, each episode brings you into engaging, sometimes humorous, conversations designed to entertain as it teaches. Each episode in the series is designed to be viewed independently of the other episodes, so that participants will enhance their knowledge of this area whether they attend one, some, or all episodes.
About Financial Poise™
Financial Poise™ has one mission: to provide reliable plain English business, financial and legal education to investors, private business owners and executives, and their respective trusted advisors. Financial Poise™ content is created by seasoned, respected experts who are invited to join our Faculty only after being recommended by current Faculty Members. Our editorial staff then works to make sure that all content is easily digestible. Financial Poise™ is a meritocracy; nobody can "buy" her way onto the Financial Poise Faculty.™ Start learning today at https://www.financialpoise.com/.