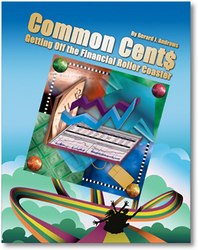 'I read the book in a single day and it remains on my desk for future reference.' -- Ian Jardine, retired Treasurer and Executive Vice President of American Express Bank Ltd.
San Mateo, CA (PRWEB) January 4, 2010
Zenjo Press is proud to offer as its first title Common Cent$: Getting Off the Financial Roller Coaster, by Gerard J. Andrews. In a time when everyone's financial well-being is threatened, if not already compromised, Zenjo Press recognizes that people need help dealing with financial problems in terms that are easy to understand. Financial advisor Jerry Andrews has put together just such a book, a self-help manual in plain English that's different enough to really guide its readers through tough times.
Feeling helpless about money is scary in the best of economic climates, when that dizzying rush to the top can leave people unprepared for financial windfalls and unsure how to preserve them. In these times, with an even more dizzying rush toward the bottom threatening nearly everyone's security and survival, it can be positively terrifying.
But there are things everyone can do to help safeguard what they've worked so hard for, defend themselves against financial catastrophe, and ensure their families and businesses ride out tough times in better shape. And Jerry Andrews is here to explain them, in terms even a financial beginner can understand. He can help you get your ducks in a row, hit your money targets, and turn that stomach-churning financial carnival ride into a smoother glide toward prosperity.
Told through stories of everyday people who make all-too-common mistakes, Common Cent$ gives readers insights into possible errors they might be making with their own finances - and then shows them how to avoid those errors. Did you have to sign over the house you grew up in to pay for nursing home care for Mom? Are you worried about how to make sure your money keeps helping out a special needs child after you're gone? Afraid you'll be denied access to your loved one in his last moments, or even lose everything you've both worked for all your lives, just because you're not married? Worse yet, have you not even thought about it? These and other everyday crises are covered in chapters that deal with everything from teaching teens how to avoid credit card debt to protecting domestic partners and forestalling the crushing bills that come with uninsured medical care.
Eleven chapters covering situations that these days seem to happen every day show how easy it is to go wrong - and how those errors can be avoided. In each case, Jerry asks the question, "How could they have done things differently?" and then provides a wealth of information, in plain English, on how to do just that. The twelfth chapter talks about investing and the author's wisdom on how to keep your portfolio safe, no matter what your holdings are. A glossary, an appendix, and a bibliography offer additional information and resources for those interested in the more technical details.
Finances don't have to be a ride through the Tunnel of Terror. Let Jerry Andrews help you step off that financial roller coaster.
Available in paperback from zenjopress.com and amazon.com. Also available in an environmentally friendly version on Kindle.
###