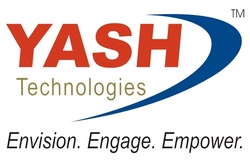 East Moline, IL (PRWEB) January 4, 2011
YASH Technologies, a leading technology services and outsourcing partner for global companies and an SAP gold channel partner, has launched FinancialsOne, a qualified SAP Business All-in-One partner solution that supports core financial business processes. Designed for small and midsize enterprises (SMEs), this fully integrated, pre-packaged ERP solution, can be implemented quickly--in a matter of weeks--to accelerate your financial close, provide strong expense management, and ensure complete real-time visibility into the financial performance of your business.
Implemented in less than 9 weeks, with a baseline price of $90,000, midsized companies can quickly take advantage of the power of SAP. In addition, it gives organizations the ability to expand their ERP system as business needs evolve. SAP Business All-in-One partner solutions are qualified by SAP and developed, sold and supported by SAP channel partners as a defined-scope implementation with consulting services, and offer the flexibility to accommodate the unique business needs of each customer. FinancialsOne is a preconfigured, industry-agnostic version of the SAP ERP application combined with SAP Best Practice offerings and delivers a comprehensive set of financial business process functionalities with little or no customization required. This means minimal disruption to daily operations during installation, and maximum return on investment. To support the rapid implementation cycle of 9 weeks, S-Imple, YASH's proprietary implementation methodology, will be utilized.
FinancialsOne is a robust solution that incorporates the following features:

General Ledger Accounting
Accounts Receivable
Accounts Payable
Period End Closing in Financial Accounting
SAP ERP Accounting Reports
Data Migration Objects & Activities
A full list of features and benefits can be found at http://www.yash.com/aio. Enhancement packages with extended functionality are also available for an additional cost.
"Streamlining the financial processes in any organization is vital to its success, especially for small and midsized organizations," comments Jacinto Arauz, vice president of sales for YASH's reseller division. "Because FinancialsOne is vertically agnostic, it can be leveraged as the foundational ERP solution for organizations seeking to gain better cost control and visibility."
FinancialsOne is the latest qualified SAP Business All-in-One partner solution developed by YASH. Other comprehensive solutions include; ManufacturingOne, ChemOne, TechOne, WholesaleOne and CPGOne.
For more information please visit http://www.yash.com/aio or email info (at) yash (dot) com.
About YASH Technologies
YASH Technologies focuses on customer success. As a leading technology services and outsourcing partner for medium and large global customers, we leverage technology and our flexible delivery models to drive performance and business value throughout a customer's enterprise. YASH's comprehensive service approach incorporates a holistic view of our customers that extends beyond delivery. This approach integrates enterprise solutions and services, proprietary best practice offerings, strategic application and maintenance outsourcing, as well as consulting and integration services. YASH is a SEI CMMI (Level 3) and an ISO 9001:2008 certified company with U.S. and India headquarters and regional sales and development offices spread across three continents. YASH is also part of a select group of companies that are SAP -certified global providers of application management services. For more information, please visit http://www.yash.com or email info (at) yash (dot) com.
SAP and all SAP logos are trademarks or registered trademarks of SAP AG in Germany and in several other countries.
All other product and service names mentioned are the trademarks of their respective companies.
###