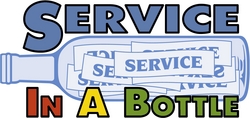 Eagan, MN (PRWEB) February 12, 2008
ServiceInABottle.com (launched in January of 2008) matches consumers who need to find help getting service work done with providers who want to find service work. The new, free, website helps people across the United States find local, qualified individuals or businesses to complete their projects, tasks, chores, and errands by matching them based on user criteria. ServiceInABottle.com also helps individuals looking for employment in a service industry by matching them with organizations looking to fill open positions.
Jason, a ServiceInABottle.com user, compared ServiceInABottle.com to a Yellow Pages for individuals, a Yellow Pages for businesses, and a Monster.com (with a service industry focus) all rolled into one website. The most unique of these three, a Yellow Pages for individuals, is like an eBay for services, but without the auction format. While eBay empowers individuals to be merchants selling products, this website empowers individuals to be providers selling services. ServiceInABottle.com separates itself from the competition by offering precise matching between consumer requirements and provider capabilities via their selected criteria, introducing consumers to providers, supporting the sharing of rich content (pictures, videos, documents, etc) between consumers and providers, and being exceptionally user-friendly.
The website has consumers create Projects and providers create Profiles for services such as Home Maintenance (handyman work), Landscaping, Sports Training, Event Planning (weddings to scrapbooks), Tutoring, Personal/Family duties (chores/errands to child care), PC support, and much more! Find out more about How It Works at http://www.serviceinabottle.com/HowItWorks.aspx.
ServiceInABottle.com's President, Brian Walker, sums up the concept behind the website, when he says, "In decades past, local gathering points were a reality and a community bulletin board worked for finding help or finding work. Today's society is more fragmented and the same approach is now much less effective. ServiceInABottle.com is an online tool similar to a community bulletin board. It allows members of the community to connect for getting service needs met and for generating income by meeting service needs."
ServiceInABottle.com is owned and operated by Wingenious Inc. Wingenious architects, designs, and develops ingenious applications to be delivered over the web. The web applications have unique and powerful functionality; much of it deriving from the databases. The headquarters for Wingenious are located in Eagan, MN.
###