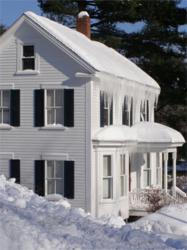 Fires during the winter months are much more common than most think. There are several tips that can prevent this and the experts wanted to share with consumers.
Chicago, IL (PRWEB) March 19, 2013
Fire safety is something that is important to everyone, and is taught to children starting from a very young age, but many people are unaware of the less obvious fire risks and dangers associated with heating devices, including fireplaces. Winter is a time when many home fires begin, because of the rise in the use of home-heating devices, but there are a number of safety tips that can be followed by residents to reduce the risk of wintertime fires.
The safety and security experts at SecuritySystemReviews.com, a comprehensive website dedicated to providing reviews of the top home security systems, and security system blogs, put together a brief list of tips that can help people avoid the fire risks associated with the winter months.
1. Fire and smoke monitoring can be a valuable asset for families to invest in, particularly during the winter months. If a homeowner already has a security system company in place that provides monitoring, it may be possible to add fire and smoke monitoring to the system as well. Homeowners and renters may want to compare home security system prices, including add-ons such as fire and smoke monitoring, before selecting a system. Many companies offer special deals on add-ons. Smoke detectors are vital to any home, but having a security system company monitor your home is great if a fire begins while you are away or sleeping. In fact, adding fire monitoring to your security system plan can prevent a great deal of fire damage. A home automation system is also a good way to monitor your home when you're at work or away for the holidays. Sites like SecuritySystemReviews.com offer home automation security reviews for homeowners considering this as a way to prevent fires in their home.
2. Have furnaces, chimneys and vents inspect regularly, and in particular before heavy winter use. Having these items inspected and serviced at least once a year by a qualified professional is one of the best ways to avoid a fire. In fact, creosote build-up is one of the leading causes of chimney fires.
3. Space heaters should be plugged directly into an outlet, rather than using extension cords. They should be placed at least three feet away from any object that can burn, including paper and bedding. Children should also be kept at least three feet away from any heat producing object.
4. Smoke detectors should be tested monthly to ensure they are working properly. They should be installed on every level of the home and inside and outside of sleeping areas. Prior to winter is also a good time to check carbon monoxide monitoring systems, because various heating devices can lead to carbon monoxide poisoning, particularly during the winter months.
5. If using a fireplace or wood stove to heat a home during the winter, all wood used should be dry and seasoned. It's also important to avoid using trash or debris in a fireplace or woodstove.
6. Never use a traditional oven to heat a home during the winter months.
7. Don't leave a fireplace or any fire unattended. This includes when going to bed.
About the Company
SecuritySystemReviews.com is a website providing comprehensive, unbiased reviews of home security system companies. The site also provides price comparisons and security system coupons, for consumers considering the purchase of a home security system or home security system equipment.