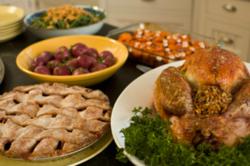 In 2011, Thanksgiving Day alone had three times the average number of reported home structure fires involving cooking equipment.
Irving, Texas (PRWEB) November 09, 2012
Thanksgiving is a highly anticipated holiday for many—good food, good company and with any luck, good football. But the sale of turkeys isn't the only thing that increases.
According to the National Fire Protection Association (NFPA), cooking fires were the No. 1 cause of home fires and related injuries in 2011. Thanksgiving Day alone had three times the average number of reported home structure fires involving cooking equipment.
Fortunately, the risk of a cooking fire can be dramatically reduced by implementing fire safety precautions and using cooking equipment properly. The Electronic Security Association (ESA) offers these tips to help keep families safe and fire-free this Thanksgiving.
Keep safety in mind when cooking on the stove.
From boiling water on a ceramic stove to cooking mashed potatoes on a gas range, stoves play a big part in cooking a Thanksgiving Day meal. Practice safe cooking and avoid a smoke-filled kitchen by keeping the stove area clear of items such as oven mitts, wooden utensils, food packaging and towels; and refrain from wearing loose, dangling clothing that can catch on fire.
To further prevent injuries, cook on the back burners if possible and keep long handles turned in to prevent pots from accidentally being knocked off the stove. Keep children at least three feet from the stove when it's hot.
Stay focused on the task at hand.
Two things can be attributed to carelessness in the kitchen—burned food and danger. Many kitchen fires and injuries occur because food is left unattended. It doesn't take long for a fire to get out of hand, so never leave the kitchen while frying, broiling or grilling. Cooking activities such as baking, roasting or boiling do not present as many hazards as frying, broiling or grilling, but it's still important to stay in the home and remember to check the food periodically.
It's also important to pay attention to warning labels and cooking directions. For instance, turkey fryers are widely used during the holidays but they can be very dangerous if they aren't used correctly. Turkey fryers that are overfilled or overheated can quickly catch on fire. Use extreme caution when using these appliances and follow cooking directions closely.
Know what to do in case of emergency.
The moments following the start of a fire are crucial to the safety of a home and its occupants. Always keep a fire extinguisher in the kitchen where it can be easily found. Use PASS to remember how to operate an extinguisher:

Pull the pin, hold the extinguisher with the nozzle facing away and release the locking mechanism.
Aim low and point the extinguisher at the base of the fire.
Squeeze the lever slowly and evenly.
Sweep the nozzle from side-to-side.
Never try to put out a grease fire with water—no matter how big or small. Water doesn't extinguish this type of fire; it spreads the fire by causing the grease to splash out of the pan. The best way to extinguish a grease fire is to quickly cover it with a pan lid and turn off the burner.
Even if all precautions are taken to avoid a kitchen fire, there is no guarantee that it won't happen. For this reason, all homes should be equipped with a monitored fire alarm system. ESA encourages homeowners to select a knowledgeable and trusted security company that is a member of ESA to install and monitor a fire alarm in the home. To find a local ESA member, visit Alarm.org.
Although diets and healthy food go out the window this time of year, safety is something that shouldn't. Use these tips to ensure a happy, safe and fire-free Thanksgiving!
ABOUT ESA
Established in 1948, the Electronic Security Association (ESA) is the largest trade association representing the electronic life safety and security industry. Member companies install, integrate and monitor intrusion and fire detection, video surveillance and electronic access control systems for commercial, residential, industrial and governmental clients. In cooperation with an alliance of chapter associations, ESA provides technical and management training, government advocacy and delivers information, advice, tools, and services that members use to grow their businesses and prosper. ESA may be reached at (888) 447-1689 or on the Web at http://www.ESAweb.org.