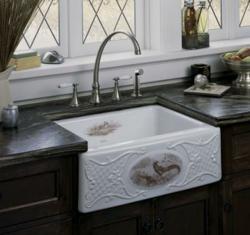 Unlike some porcelain-coated sinks, fireclay sinks won't chip, scratch, or mar, and can hold up to an impressive amount of abuse.
(PRWEB) October 18, 2012
HomeThangs.com – the Home Improvement Super Store has made their goal to deliver the right product to the consumer, with that in mind, shopping and home design tips, as well as special product selections are being introduced.
Fireclay sinks have been around for a couple hundred years now, with roots in French country kitchens, but they've started making a comeback in a big way in recent years. There are more than a few reasons fireclay sinks have withstood the test of time, and a couple that they're coming back in vogue now specifically. HomeThangs.com introduced a shopping guide to fireclay kitchen sinks for those in the market for a traditional but on-trend sink for their next kitchen remodel.
1. What Is Fireclay
Fireclay sinks are sinks made of a very specific type of white clay found only in certain regions of the world. If buying one today, there's a good chance that it's coming from either Italy or Israel, or in the case of the Shaws Original Single Basin kitchen sink by Rohl, from the Limoges region of France. What's unique about this particular clay, though, is that it can withstand extremely high firing temperatures – temperatures exceeding 1515 degrees Fahrenheit, to be specific – which makes for a finished product with extremely unique characteristics, even among other ceramic or porcelain sinks.
2. Durable Design
First, fireclay sinks are very hard. Being fired at such high temperatures causes the clay material to fuse together with itself and with the glaze to produce an incredibly durable surface. Unlike some porcelain-coated sinks, fireclay sinks won't chip, scratch, or mar, and can hold up to an impressive amount of abuse. They offer a smooth, traditional, glossy white finish that's surprisingly able to handle modern day wear and tear. After all, these sinks were originally made to handle intensive farmhouse cooking and washing.
3. Inert Finish
Not only is fireclay incredibly hard once it's fired, the glossy glazed surface is also quite inert. It's resistant to hot, cold, acid, and alkali, and won't rust the way some ceramic or porcelain sinks will. In fact, that's another byproduct of the high heat – the clay and glaze are raised to such a high temperature that the resultant sink is completely non-porous, so it won't stain or discolor, either, making it an excellent material for a utility sink. For those who like the look of a porcelain sink but hate the care and maintenance of it, a fireclay sink like the Reversible Farmhaus Kitchen Sink from Whitehaus is a much less persnickety alternative.
4. Eco-Friendly
One of the big catalyst for their comeback is the green revolution, and fireclay sinks like the Quatro Alcove Sink by Whitehaus make a nice addition to an eco friendly kitchen. Because they're made out of all natural materials, are totally lead-free, designed to last as long as the house, and can be completely recycled, fireclay sinks are not only highly functional, they're also about as environmentally friendly as they come.
5. The Style
It is possible to get fireclay sinks in a variety of different designs, but the majority are going to be farmhouse style apron sinks. While there are some bathroom-destined undermount basin style sinks, and a few kitchen drop-ins, the vast majority are more like the Luveron Fireclay Sink from Herbeau, with a simple or lightly designed apron that sits inside a notch in a counter top.
6. Color and Design Variations
Because fireclay sinks are made out of white clay, there aren't really many of authentic fireclay sinks in any color other than white or slightly off-white. There are exceptions, of course, but by and large you're looking at a white sink. There are fireclay sinks with some pretty lovely decorative aprons. Since fireclay sinks are made of pressed clay, one can get just about any design on the front face. There are some with hand painted or etched designs on the apron, like the gorgeous Tidings Fireclay Sink from Kohler, for a more old fashioned look.
7. Number of Bowls
Though the vast majority of fireclay sinks are apron style sinks, that doesn't mean they don't come in a variety of styles. One can easily get single or double bowl fireclay sinks, and as with any other kind of kitchen sink, even there there's a little variety: the size and depth of the bowls and the height of the wall between them.
HomeThangs.com is not only a home improvement superstore, it also provides expert design tips and a comprehensive shopping guide, taking the ideas from professional interior designers, and offering tips to the consumers on how to pick the products to best suit their needs.