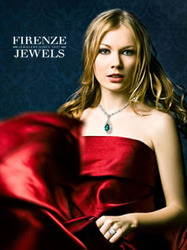 By sharing our best selling jewelry designs with the public, we hope it gives shoppers a little inspiration in finding the perfect gift.
New York, New York (PRWEB) December 16, 2010
Firenze Jewels, Inc. recently announced a selection of top jewelry gift ideas for the holidays. Drawing upon their combined decades of sales experience in assisting with fine jewelry purchases, the longtime New York Diamond District jeweler strives to make the gift buying experience a little easier for holiday shoppers. "By sharing our best selling jewelry designs with the public, we hope it gives shoppers a little inspiration in finding the perfect gift," says Gabrielle Guzman, Director of e-Commerce at Firenze Jewels.
Top Fine Earring Designs
Because they are always the right fit, fine diamond studs are a popular choice when it comes to earrings. Studs are also a common selection for a daughter, granddaughter or niece coming of age. However, if the recipient already owns a pair, then a set of fine dangle or diamond hoop earrings are exceptional options.
Top Fine Pendant Designs
Pendants have always been celebrated as a gift with intrinsic meaning between the giver and the bearer. Designs such as diamond heart shaped pendants, solitaire, key or journey pendants still remain classic favorites. Clients looking to express faith, tradition and heritage with their gift, find a fine religious pendant to make the perfect choice.
Top Fine Necklace Designs
Intended for daily wear, diamonds by the yard necklaces have made well-received first-time jewelry gifts. Clients searching for something formal gravitate towards a tennis necklace, diamond drop necklace or one with a graduated design to make for a stunning gift. The most common length chosen for a lady's necklace is about 18 inches which is otherwise referred to as "The Princess Length".
Top Fine Right Hand Ring Designs
Floral designs have been greatly sought after in diamond right hand rings and this trend is predicted to continue. Styles featuring black rhodium and black diamonds have increasingly garnered attention as well. Clients find a unique fine diamond ring to be the perfect unexpected gift for a jewelry aficionado.
Top Fine Engagement Ring Designs
The holidays and New Year's Eve are perhaps the most popular times of year to propose. When shopping for a diamond engagement ring, clients place careful consideration on the setting the center stone will be set in. Vintage and antique style designs with intricate milgrain detail give an heirloom quality feel they greatly appreciate. Halo designs are also a favorite choice for diamond engagement ring settings as it makes the center stone appear larger and more brilliant.
About Firenze Jewels
Located in the heart of the New York Diamond District, Firenze Jewels houses the world's leading jewelry designers as well as competitively priced hand crafted engagement rings, wedding bands, G.I.A. certified loose diamonds and fine jewelry. Jewelers since 1937 and over 10 years experience of conducting business online, Firenze Jewels is renowned for designing and crafting exquisite pieces for Hollywood celebrities, members of the art world, as well as the tiara for Miss World. Receive fully insured free shipping until December 23rd when placing an order online and using promo code: SPARKLE. To learn more, please visit http://www.FirenzeJewels.com.
Contact:
Gabrielle Guzman
Firenze Jewels
15 W. 47th St., #4
New York, NY 10036
info(at)firenzejewels(dot)com
800-790-6980
# # #