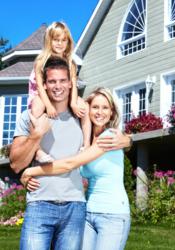 Columbus, OH (PRWEB) March 26, 2013
With mortgage rates at or near all time lows, home ownership stats are once again on the rise. Only, they haven't increased as fast as many people expected. The reason? Major banks have significantly tightened their lending requirements and have also lengthened the amount of time it takes for someone to obtain approval for a mortgage, even for people with perfect credit.
Getting a mortgage now requires much more than good credit. Home buyers, even first-time buyers eligible for special programs through the FHA, VA, or military, have to show proof of income and provide down payments that significantly exceed the old standard of pre-recession requirements.
But Loans.net is helping potential home buyers fight back. The company's comprehensive mortgage rate finder specializes in aggregating information from a wide variety of lenders and mortgage brokers. Loans.net also negotiates with individual providers to ensure their readers receive the most competitive offers that lenders are authorized to make.
"My husband and I went to—I swear—every bank in town, trying to get a mortgage. Both of us have jobs. We always pay our bills. We pay off our credit cards every month. We even have $10,000 in savings we wanted to apply to our down payment," said Adrianna, an administrative assistant and mother of two elementary age children.
"But no one wanted to give us a mortgage. We spent hours and hours filling out paperwork, only to get rejected, each and every time. I started literally crying myself to sleep after staring at mountains of paperwork that I knew wouldn't ever make any difference."
Then, on a whim, Adrianna decided to do a Google search and found Loans.net. She used the company's rate finder and discovered a small lender called CapWest Mortgage that's a 104-year-old, family-owned bank. Two weeks later, she and her husband were pre-approved for a mortgage. Six weeks later, their family moved into their first house.
"I never would have found CapWest Mortgage without the help of Loans.net," said Adrianna. "And CapWest was just so amazing. I don't think our family ever could have made it into our new home without the assistance of Stacey, our mortgage officer there."
Thousands of similar would-be home owners have used Loans.net to find similar deals that weren't available through their local banks.
"We're really focused on connecting consumers with the best fit loan providers, whether it's for mortgages, automobile financing, personal loans, or debt consolidation loans," said Gale Stevens, a PR specialist at Loans.net.
The Loans.net website provides rates and information for virtually any sort of loan. It also offers fast online approval for cash loans, auto financing, personal loans, debt consolidation, and credit cards.