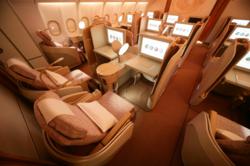 Last Minute Business Class Flights with I Fly First Class
Chicago, IL (PRWEB) March 08, 2013
Today's competitive airlines build their reputations on meeting first class passenger expectations of superior facilities, the finest amenities and five-star service. "Elaborate first class airport lounges only go so far, however, in keeping the first class passenger satisfied," says I Fly First Class PR Manager Julia Graft. "The in-flight first class seat is just as critical in earning the loyalty of well-heeled travelers."
To help travelers get the most out of their first class fares, the business and first class travel experts at I Fly First Class (IFFC) recently compiled a list of the Top 10 Best First Class Seats.
Always at top-of-mind for its elegant service, Qatar Airways does not disappoint with its first class seating. The service is exquisite, including a 10-course meal with caviar and free-flowing champagne. The seats are equally impressive with generous storage space, a personal television and seats that extend to full-flat beds for long overnight flights.
U.S.-based carriers infrequently attain a spot on these first class lists, but IFFC likes American Airlines relatively new swivel seats. The first in the industry to offer swivel seating, American Airlines' seats recline to a 6'6" full-flat bed, and the seat's two drop-down arm rests provide extra space. The seats operate electronic reclining and lumbar support for additional on-board comfort.
Lufthansa's first class cabins include spacious leather seats that convert to full-flat beds. The airline's 747 aircraft offer first class passengers both a seat that converts to the bed and a chair so that travelers can visit with one another or just spread out. Cabin humidifiers are a nice touch, as are the fine dining options.
First class passengers have more room to spread out and enjoy a little privacy aboard Cathay Pacific. The airline only installs six to nine first class seats on any airplane, in a 1x1x1 configuration. "That limited seating translates into more personal space and less aisle traffic," Graft says. The airline, known for its first class service, offers all the usual first class amenities as well, including a personal television monitor, storage space and plenty of champagne.
Aboard Emirates' Airbus 380, first class seats are actually private suites with full-flat beds and turn-down service. The on-board showers nicely complement other amenities and in-flight entertainment system that always receives top marks from passengers.
IFFC enjoys Etihad's push-button control seats that lie fully flat at an impressive 6'8" and Malaysia Air's comfortable seats/beds, top-notch linens, toiletries and soft pajamas. Rounding out the list of the top 10 first class seats are Singapore Airlines, Qantas, and Jet Airways. Singapore Airlines' Airbus 380 first class seats are leather and span 35 inches across. Situated in individual pods, the seats offer privacy and large television monitors. Qantas' provides very large seats with plenty of privacy, ample storage and a plush sheepskin underpad for sleeping. Jet Airways' first class seating includes excellent in-flight entertainment, comfortable flat beds and sliding privacy screens.
Julia Graft, PR Manager
For information about other first class seating options, contact the business and first class travel experts at IFFC by calling (888) 347-7817 or online at http://www.iflyfirstclass.com.
We know our customers expect the highest quality standards. Reliability and integrity are the hallmarks of our reputation. Enjoy luxurious travel at special discount rates to the most international destinations on first and business class flights with I Fly First Class.