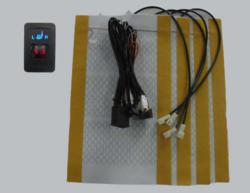 Heated Seats works great on cars,trucks,boats,airplanes,farming machines,or constrcution vehicles with small seats,universal application fits any vehicle,element size 9"*18",Dual lighted switch
Shaoxing,Zhejiang,China (PRWEB) November 22, 2012
In their car seat heater kits, Firsten Automotive uses a mini-size digital temperature controller. This little temperature controller comes with a programming feature and can ensure a precise temperature control, allowing to achieve the exact temperature level which is desirable. The size of the temperature controller is so minute that it can be easily installed under the seat. The company maintains that the programming of the controller ensures automatic shut off for one-hour duration everyday to maintain the durability of the Automotive Seat Heaters. Moreover, the seat heater turns off automatically as soon as the vehicle is turned off. The company also reveals that their car seat heaters can also be started through remote controls, which is a new feature that appeals to a large number of car buyers.
According to a recent research survey, in aftermarket, most people opined that their car was not equipped with an essential option and that was seat heaters. Seat heaters thus make the primary choice, and are even more desirable than sunroofs and leather seats. Keeping this fact in mind, Firsten Automotive has introduced a large selection of Heated Seats that can be accommodated in almost all types of vehicles, providing the desired level of comfort and warmth to the body of the vehicle occupants.
Many healthcare experts have also revealed that the therapeutic values of a car seat heater that can alleviate sore backs and muscular pains. This could be especially beneficial for people who use to drive several hours everyday. This is the reason why many drivers are gladly choosing Automotive Seat Heaters for a comfortable and pleasant driving experience together with long-term health benefits. The installation of the car seat heaters is simple and many dealers of Firsten Automotive are available to install seat heaters in your car. To know more about their car seat heaters and for an online enquiry, you can visit their website http://www.firstenheating.com.
About Firsten Automotive
Website: http://www.firstenheating.com
Firsten Automotive Electronics Co. Ltd is a high-tech enterprise which is specialized in development, production and marketing of heated products. The main products of the company are Heated seats, Car Seat Heater, Heated Gloves, Electric Blankets, Heated Cat and Dog Beds, Mats and Pads, Ice and Snow Traction Cleats, Battery Heated Clothing, Heated Motorcycle Gear, Hotronic Foot Warmers, Heat Therapy and Little Hotties Warmers, etc. Their heated products are popular worldwide and are exported several countries in Europe, the Americas, Asia etc.
Contact: Firsten Automotive
Should you have any question, or want to know more about their Automotive Seat Heaters, you can contact them at:
Tel: 0086-575-85525378
Fax: 0086-575-85255356
E-mail: info@firstenheating.com
Website: http://www.firstenheating.com