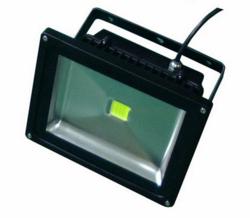 LED Flood lights with Single high power LED are widely used in factory, landscape, sports stadium; advertise board, architectures, lawn, gardens, tunnel. Waterproof level at IP65, which enable this LED Flood light to be used outside.
Shaoxing,Zhejiang (PRWEB) November 09, 2012
This fantastic range includes LED Floodlight products from one of the leading names in the LED lighting industry – Firstenled. These LED lights are can be found in different watt ranges that will be enough to satisfy the needs and requirements of almost any user.
First in the line of these new products is the Firstenled LED Flood Light which is available in both a warm white and white color if power ratings of ten, twenty, thirty and fifty watts. These floodlights are high powered products and are a treat for the eyes creating a welcoming and warm atmosphere for its audience lighting up an uninviting and dark place instantaneously. Users have the choice of selecting either a soft option or go for the bright white color. Whatever the case, illumination is crucial for safety, security and convenience so that daily tasks can be done more comfortably.
The second innovative product is the Firstenled Diamond LED light which is available in a cool white color in watt ranges of 12 & 22. The selection of power rating can be done based on the requirement of the amount of light needed in the area. This LED is an energy efficient and high quality floodlight and is one of the most perfect alternatives to a 100Watt Linear Halogen LED floodlight which is known to consume a lot of energy.
A black aluminum alloy is used to house the unit which ensures that the LED has a higher durability as it comes with an IP65 rated glass lens. This floodlight is perfectly suited for users who have a PIR sensor. A one meter rubber flex cable is also available with this LED Wall washer. These floodlights find use for a commercial and domestic range of applications that can improve general visibility settings and also prevent any kind of criminal doings.
Why you should think about investing in Floodlights?
The amount of increasing costs for energy has made a lot of people think twice about the electricity consumed on a daily basis. LED floodlights are a perfect tool for reducing the consumption of electricity and reducing the electricity bill by as much as 80 percent. LED lights are also much more environmental friendly since they do not contain any mercury and have very low CO2 emission.