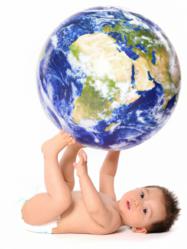 This baby reunion is unique because it celebrates the pioneering families and their babies conceived from thawed frozen eggs.
Orange County, CA (PRWEB) October 04, 2011
David Diaz, MD, CEO of Frozen Egg Bank Inc. and West Coast Fertility Centers has always been on the scientific forefront of finding real solutions for real human needs because he understands that unanticipated life events can threaten a woman's reproduction. Cancer at a young age, career demands, single marital status, or a depleted ovarian function can all endanger a woman's fertility potential.
Since 2000, Frozen Egg Bank's (FEB) medical and scientific team have been refining the art of freezing and thawing a woman's unfertilized egg for fertilization and implantation at a later date. Long before the "flash freeze" method was in vogue, FEB in association with West Coast Fertility Center, presented their 91% frozen egg survival rate data at the ASRM Meeting in 2008. The team developed an IRB approved study for their digital programmed freezing method that has resulted in the births of nearly 70 healthy babies out of about 400 born in the U.S. from frozen eggs. Cadyn, the Center's oldest frozen egg baby and the first in California, will celebrate her 6th birthday on October 6th, 2011.
Advances in oocyte freezing now make it possible to preserve the unfertilized eggs of young cancer patients prior to starting potentially damaging chemo or radiation treatments. Once cleared by her oncologist, she may thaw her oocytes to attempt pregnancy. Such was the case for courageous Brie who was diagnosed with Hodgkin's Lymphoma at age 23 and chose to freeze her eggs before starting chemotherapy. While going through the difficult diagnoses of cancer, there is hope knowing that Brie was given the option to freeze her eggs. There is definitely "life after cancer" and it is comforting to know that Brie's ability to one day have children won't be compromised.
Egg freezing has also proven valuable for the career inspired women. The physical properties that make an egg fertile during her youth can now be preserved by freezing her eggs until such a time when she is ready to initiate her family on terms that are suitable for her. Such is the case for Yvonne, a PA, who expressed, "Being a 34 year old professional female, I have thought about egg freezing for 2 years. I did not want my biological clock to dictate when I should get married and have children. After reading about Dr. Diaz and all the great work he has done, I decided to proceed with egg freezing."
Some women faced with a family history of premature menopause, endometriosis and other medical conditions which can diminish or damage their ovaries can still become pregnant by using stored donated eggs frozen with cutting edge technology at the Frozen Egg Bank, Inc. (FEB), in California. Dr. Diaz recalls the debate more than 20 years ago about whether older women should conceive by using donor eggs. In 1992, Dr. Diaz's patient, Mary Shearing, age 53, gave birth to twins. Today, Mary is an active 72 year old proud mother of daughters in college.
After undergoing IVF, patients like Stephanie and Rob chose to freeze surplus eggs instead of embryos. As needed later, the eggs are thawed and fertilized to create embryos that are then transferred to the uterus for a pregnancy attempt. Unlike an embryo, the egg is a single unfertilized cell, which for some individuals, may be simpler to discard when no longer needed. With this method, fewer extra embryos are created or need to be stored. More and more patients are favoring this option that avoids some of the ethical dilemmas surrounding frozen surplus embryos.
"Like previous fertility breakthroughs, egg freezing is not without its critics. While I can understand the medical and lay communities concerns about new fertility procedures, egg freezing is becoming a viable option for those women who wish to preserve their fertility," says Dr. Diaz.
Previously, the low success described in early published medical articles seemed to perpetuate the false notion that egg freezing would never become a reality. However, building on the high success rate with embryo freezing at West Coast Fertility Centers, their focus turned to the systematic analysis of the physiology and the fluid composition of a human oocyte. West Coast scientists recognized the oocyte's special requirements needed to survive the rigors of very low freezing temperature while still maintaining its integrity. Equally important to a successful freezing program is the development of a robust thaw protocol that insures the survival of the egg when ready to be fertilized. Cell death can occur if conditions are not optimal during the reanimation sequence.
Rarely discussed by the media is the fact that the vast majority of clinics offering egg freezing have never even attempted to thaw a single one of their patients' eggs. This is a glaring example of why egg freezing is still considered "investigational." Nevertheless, in the hands of experienced practitioners who practice the art of egg freezing, the success rate in the favorable patient age group approximates those of a fresh IVF cycle. Egg Freezing and thawing should be left to veteran experts who perform it frequently and practice it well.
"This baby reunion is unique because it celebrates the pioneering families and their babies conceived from thawed frozen eggs. Although some groups may consider egg freezing "investigational," nearly 70 joyous families and their frozen egg babies will come together to celebrate LIFE at West Coast Fertility Centers," states Diaz. Guest speakers at the reunion will include Jack Jacoub, MD, Director of Oncology at Orange Coast Memorial Hospitals, Alice Crisci, Founder of Fertile Action Network, and Barbara Trulson, mother of our first frozen egg baby.
On Saturday, October 15, 2011 at 2PM, West Coast Fertility Centers will host "The World's First Frozen Egg Baby Reunion" honoring the parents and children conceived from frozen eggs. The event will be hosted by Dr. David Diaz and his Team at West Coast Fertility Centers Orange County, 11160 Warner Avenue, Fountain Valley, CA 92708.
Press inquiries and interviews with Dr. Diaz and his patients can be accommodated by calling Yvette Manard, MPH at 562-924-7072.
###