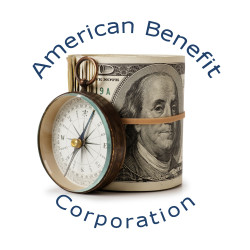 American Benefit Corporation specializes in developing strategic solutions to executive benefit needs.
Rutland, VT (PRWEB) October 09, 2012
Jim Herlihy of American Benefit Corporation has just published a new study expanding on the work of Andrew Taylor of the Associated Press who reported on October 1, 2012, that most Americans will see a huge tax increase if nothing is done to stop the expiration of tax cuts at year-end.
It is estimated that middle income earners making between $40,000-60,000 may see their taxes go up to $2,000 per year and the top 1% of earners could see an average tax increase of $120,000. Further, it is estimated by the tax policy study that was released October 1st that almost 90% of all households would face a tax increase, though the top 20% would incur 60% of the overall cost.
It is this 20% who should encourage their employers to establish non-qualified deferred compensation plans, if they don't already have them, to allow the top earners to defer pre-tax income to offset these high potential tax increases. Accumulating income on an after-tax basis for retirement with this level of tax increase simply doesn't work.
Elections to defer income to existing non-qualified plans must be made, in most cases, before year-end. For new plans, participants have 30 days after the date of plan implementation.
Executives have the ability to manage their tax liability with non-qualified deferred compensation plans, but they must take action. Having a tax problem at retirement because you have too much income is always preferable to an income problem because you have too little income.
About Us -
At American Benefit Corporation, we design, fund and manage executive non-qualified benefit plans for highly compensated corporate executives who wish to reduce current income taxes and form personal capital on a tax efficient basis. Established more than 30 years ago, we serve the unique needs of executives in numerous corporations with their personal capital formation objectives.
This material is intended for informational purposes only and should not be construed as legal or tax advice and is not intended to replace the advice of a qualified attorney, tax advisor, or plan provider.
Securities offered through M Holdings Securities, Inc., a Registered Broker/Dealer, Member FINRA/SIPC. American Benefit Corporation is independently owned and operated.