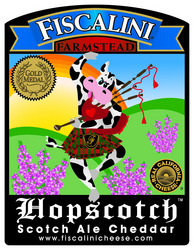 best extra mature traditional cheddar in the world
(PRWEB) February 19, 2008
The busy folks at Fiscalini — whose 18-month Bandage Wrapped Cheddar was recently crowned "best extra mature traditional cheddar in the world" at London's World Cheese Awards — have introduced a wonderfully savory Scotch Ale Cheddar.
Dubbed Hopscotch, it combines Fiscalini's gold medal cheddar with award-winning dark Scotch Ale from Devil's Canyon Brewing Company in Belmont, California. The label, which fittingly bears a Gold Medal insignia, shows one of California's happiest Holsteins dressed as a bagpiper in a Scottish tartan.
Immediately after the cheddar is milled, the curds are soaked in this wonderful brew for two hours, then placed in molds and pressed for 18 hours. After pressing, the 40 pound blocks are weighed, vacuum sealed and boxed for aging. The appearance is pleasing as the white cheddar's pressed curds are saturated by dark ale. At 4 to 5 months the flavor of the cheddar and ale engage in a unique tasting experience, becoming more intense with age. Hopscotch is versatile—great for parties, snacking and cooking:

Grate and melt on crackers or toast…top with mild onion.
Grate into scrambled eggs, fill omelets or frittatas.
Melt in sauces for green beans or other vegetables.
Crumble on tacos and fajitas.
Upscale your burger with a thick slice of Hopscotch.
Liven up pastas, particularly those with fresh vegetables, "primavera" style.
Before baking or grilling, crown tomatoes with oregano, basil and Hopscotch
Visit http://www.fiscalinicheese.com for additional recipes, tasty ideas and to learn about Fiscalini's other award-winning farmstead cheeses.
Contact:
The Burrell Group, Ltd.
Ronnie Campbell
212-288-6322
theburrellgroupltd @ msn.com
# # #