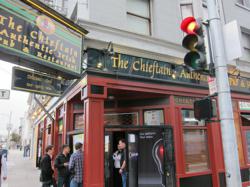 In a town known for bars and high-end bar tenders that concoct $20 drinks like a barrista, it is good to find an honest-to-goodness pub. Guinness well pulled, Harp as it should be delivered and true Irish whiskies (ok Scotch too).
San Francisco, CA (PRWEB) April 15, 2013
The Chieftain Irish Pub is proud to announce they were featured as the #1 pub in San Francisco, and featured as one of the "Top places to celebrate St. Patrick's Day in San Francisco," by San Francisco Travel.
KGO Radio also featured The Chieftain's Corned Beef dish, airing on March 16, 2013 Saint Paddy's Parade Day, discussing also the delicious Corned Beef sliders, Spicy Irish Potato Bites, complimented by the daily baked home made Brown Bread.
Located in San Francisco's SOMA neighborhood, The Chieftain is recognized as the best pub in San Francisco with old world charm and service unrivaled according to the San Francisco Travel website and it's many regular patrons.
If you like a fantastic Sports bar with the atmosphere and passion of the game can be felt, then come to The Chieftain to be part of the action. International games from around the world such as Soccer, Rugby and Gaelic games are experienced throughout the year. Domestically The Chieftain is a buzz with all the San Francisco Giants Baseball home and away games, College and NBA basketball, 49'ers Football, Sharks hockey, Earthquakes soccer to just name a few of what is viewed on The Chieftain's multiple large screen TV's and surround sound systems.
Entertainment such as Live Irish Music and other local and traveling music acts can be enjoyed as part of the bustling entertainment schedule, to see an updated schedule visit The Chieftain or log onto http://www.thechieftain.com
The Chieftain was also featured on SF Travel's list of the top places to spend St. Patrick's Day in the city.
The Chieftain's Mark Nagle was a guest on KGO radio's "Cooking with Ryan Scott" show to talk about authentic Irish meals in the city. Barbara Treadwell for "On the Go" with John Hamilton on KGO also did a write up on The Chieftain. The Chieftain's corned beef and cabbage made Treadwell's list as one of her favorite food finds. Treadwell wrote, "Do yourself a favor and have the corned beef and cabbage at Chieftain. It'll do a jig in your mouth!"
Corned beef and cabbage is on The Chieftain's menu year round, not just St. Patrick's Day, so diners won't miss out. Their full menu also features plenty of other authentic European delights like Shepherd's Pie, Irish Stew, Bangers & Mash, Lamb Burger and of course the best Fish and Chips in San Francisco.
The Chieftain is famous for their extensive beer list, fine whiskey and bourbon selections, classy wine list as well as the "Perfect 20 oz Guinness Pour", having received Guinness's Perfect Pint Award.
About the company:
The Chieftain, a uniquely detailed authentic Irish pub, located at 198 5th Street(cross Howard), directly across the street from The InterContinental Hotel, one block from Moscone Convention Center, and a short walk from many of downtown San Francisco's most familiar hotels and attractions.