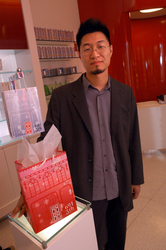 New York, NY (Vocus) June 19, 2008
This coming holiday season, shoppers at the newly reopened Elizabeth Arden flagship store at 691 Fifth Avenue will have their purchases packed in a sophisticated shopping bag designed by Chen Lin He, a student in the Exhibition Design program, a new Master of Arts major at the Fashion Institute of Technology (FIT).
Eighteen students enrolled in this program were challenged by Elizabeth Arden to create a shopping bag design that captured the style and sophistication of the store and its legendary Red Door.
Mr. He describes the graphics of his award-winning shopping bag as "inspired by the 691 Fifth Avenue building's legendary façade and the world-famous Red Door. Stylized snowflakes were added to the red and silver background to enhance the essence of holiday."
Mr. He not only will see his design produced for the 2008 holiday shopping season, but he also has received a $5,000 stipend toward the exclusive Gravity Free Multidisciplinary Design Innovation Conference in Chicago. He said, "Gravity Free is an amazing gathering of the world's most innovative designers; it's a conference every young designer dreams of attending. Thanks to this competition, I will be able to experience this dream."
The shopping bag competition was conceived by Elizabeth Arden and FIT as an opportunity for design students to execute a real-world project with an iconic company as their client. Elizabeth Park, executive vice president, Global Marketing, and general manager, Elizabeth Arden U.S., said, "We were extremely impressed by the level of talent and professionalism the FIT students exhibited during this competition and look forward to future projects with them."
The competition was kicked off in November at the Elizabeth Arden offices, where the students were given an extensive overview of the company's history, brands, collateral materials, and flagship store. They were then introduced to an internet site from which they were able to access all the specifics for the project.
Back in their FIT classroom, the students tackled the project's overall objective - to marry the Elizabeth Arden brand and heritage with a great, fresh design. Graduate Exhibition Design Department chairperson Brenda Cowan acknowledged the importance of the student project. "This was a rare opportunity for our students to approach a design challenge on a world class level," she said. "We gained so much from working with the brand knowing that the project had true merit with an exciting outcome."
By the third week in December the entries were completed and submitted to Elizabeth Arden, where a special committee reviewed the designs. Mary Beth Mazzotta, vice president, sales and marketing services, said, "A shopping bag is like a walking advertisement; if the bag design and execution are appealing enough, a woman will carry it with her everywhere she goes. Choosing just one winner was incredibly difficult. The submissions were unique and very creative, professional, and impeccably executed."
To give all the entries and their creators the attention they deserve, Elizabeth Arden held a celebratory party and private showing at 691 5th on May 27. Additionally, all of the shopping bag designs were on display in the 691 5th gallery through June 2.
###