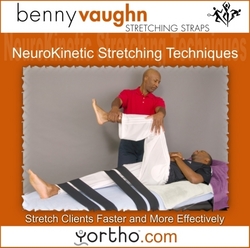 These high grade stabilization straps were designed with the practitioner in mind
Southlake, Texas (PRWEB) March 1, 2009
Yortho announces the availability of The Benny Vaughn Stretching Straps complete with DVD introducing Benny's system of NeuroKinetic Stretching Techniques. The exclusive stretching straps were designed by Benny Vaughn, one of the leading sports therapists in the U.S., specifically for massage therapists, chiropractors and athletic trainers.
The Benny Vaughn stretching straps enable the practitioner to focus on the stretching, rather than worrying about having only one hand free to perform the necessary stretch maneuver. The stretching straps allow the practitioner to work with both hands and body weight together to facilitate the best and precise stretching techniques they wish to employ.
"These high grade stabilization straps were designed with the practitioner in mind," said Vic Awtry, CEO of Yortho.com. "The Benny Vaughn Stretching Straps are manufactured to last, on average with high volume use, ten years."
Benny Vaughn sought and found the best neoprene material for these unique stabilizers that can be used on therapy treatment tables in an easy to attach and move system. "These straps work great on the road with athletic teams and independent therapist working at sports venues," Vic adds. "They perform extremely well in the office and clinic setting where the straps can remain on treatment tables for daily use with high volume therapy encounters."
The Benny Vaughn Stretching Straps are manufactured in the USA and come with a 30-day money back guarantee. The Benny Vaughn Stretching Straps with DVD is available now at a price of $99.95. This product normally retails for $189.95. For more information, visit the Yortho website at http://www.yortho.com.
About Yortho:
Yortho, LLC is the exclusive internet retailer for New Options Sports, one of the very few, and certainly the very best quality, manufacturer of orthopedic braces. Yortho is best known for their children's line of colorful orthopedic braces. Yortho's products are manufactured in the USA, their factory is located in Dallas, Texas.
Contact:
Vic Awtry, CEO
Yortho, LLC
817-329-6621
Yortho.com
# # #