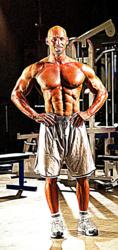 The BROSER BUILT Program is almost like having Eric as your personal trainer/coach but at a fraction of the cost.
Beverly Hills, Califirnia (PRWEB) March 04, 2013
Physique-Transformation guru, Eric Broser recently relocated to Beverly Hills, California to make himself more easily accessible to members of the entertainment industry for one-one-one training. Eric loves the challenge and satisfaction of rapidly "restructuring" a client's physique for a specific event, role or photo shoot. But you do not have to live in Los Angeles in order to benefit from Eric's fitness, nutrition, and physique-sculpting expertise. With the launch of his new website, http://www.broserbuilt.com, you can work with Eric personally through his long-distance, online coaching services and/or by subscribing to his "Broser Built Program."
"The BROSER BUILT Program was created specifically for people unable to work with Eric either in person or online via his individually customized protocols, but still wish to utilize workouts that he personally designd using his world renown P/RR/S and FD/FS training systems.
Eric's workouts will be designed in such a manner that they can be incorporated into a 3, 4, or 5 day per week workout regimen, and will change EACH AND EVERY week on a continuous basis in order to keep your training fresh, fun, effective, exciting and free of plateaus! Every workout will include the exercises, sets, reps, rest periods, lifting tempos, and intensity techniques you are to utilize at each session, so there is absolutely no guesswork or question about what you need to do while at the gym.
Once you enroll in the BROSER BUILT Program you will also have access to dozens of videos that show you the proper form/technique of every exercise, with clear and concise instructions and explanations of what muscle(s) are being targeted. In addition, the videos will make it a simple task to substitute one similar exercise for another if unable to perform the one provided due to a limitation such as injury or lack of necessary equipment. The BROSER BUILT Program is almost like having Eric as your personal trainer/coach but at a fraction of the cost."
Check out http://www.broserbuilt.com today and take advantage of the free 7-day trial subscription! Don't you think it's time to be "Broser Built?"