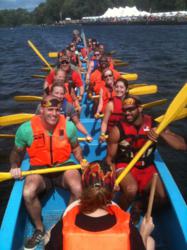 Rumford, RI (PRWEB) March 26, 2013
On Saturday, 3/30/13, 212 Health and Performance will be hosting a free health lecture called "Fake Strength and Cheating Ourselves," to educate the community about ways in which we prevent our own progress in regards to exercise and fitness. Conducted by 212 trainer Sean St. Onge and local chiropractor, Dr. Vincent Brunelle, the lecture will give clients solutions to the most common problems they see as well as at-home troubleshooting techniques.
212 Health and Performance is more than just a place to exercise. Founded on the premise that giving one degree more of effort in every aspect of your life will lead to transformation, they live by that in their business practices as well. They have created more than just a gym for their clients. 212 is a community of the staff, clients and members and that community is one big reason why people keep coming back and creates appeal to prospective clients. They participate in races and other challenges as teams, like the Dragon Boat Races (seen at right), host clothing and blood drives, celebrate with parties and invite guest lecturers in to help supplement the education they already give their clients.
The fitness industry is currently flooded with gyms, dvd's, trainers, and the next new health craze which makes it challenging to set a truly unique experience apart from the competition. Kerry Taylor, owner of 212 Health and Performance, believes that creating this community and giving members more than just a workout is a very important way to provide more than what is expected. At first, he was not sure how much participation any extra events would get, but as it turns out, they are extremely popular. There is always a great turn out and the members seem to really enjoy them.
"In order to keep clients coming back in this business, you have to engage them in other ways besides just through their workouts. They should feel like a part of something bigger," says Operations Manager, Heather Castellanos, "and we make that a priority."
212 Health and Performance hosts all kinds of events year round, almost all of which are complimentary for members of the gym and their families, and many are free and open to the public as well. You can view a list of events at their Events Page or their Facebook page.
About 212 Health and Performance:
212 Health and Performance is built on the premise that within each of us lies the ability to push beyond what we think possible. True progress lies between the familiar and the unfamiliar. When the temperature of water raises just one degree it is transformed from water to steam and its ability to power, transform and create change is generated. This is our philosophy. That going just a bit further, taking one more step, lasting one extra second will mean the difference between same and change. Everyone is here for a different reason, this is your journey, this is your change. 212 Health and Performance. Powered by You.