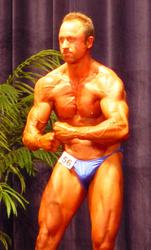 Our Fitness mission at 10Buck Fitness.com is to change the way athletes and bodybuilders of all levels pursue their fitness goals with Bodybuilding based Weightlifting philosophies and workout structures unique to The 10 Buck Training Methods.
Waterford, MI (PRWEB) January 13, 2010
The 10 Buck Training Methods were designed and created to reduce time spent exercising and actually increase workout results with truly unique techniques and workout structures. The programs are only available in internet download form for immediate use and come complete with workout schedule and integrated training logs that can be printed to record and track actual results for each exercise. The program downloads are available in PDF format at their website for only $10, along with fitness, sports, and bodybuilding nutritional supplements, apparel, equipment and related books and magazines.
10BuckFitness.com was created to deliver revolutionary weightlifting based fitness programs via the internet in lieu of previously marketed printed materials for 3 reasons. The first reason was rapid deployment and exposure, to save fitness and weightlifting enthusiasts from spending far too much time training, and potentially wasting years of training using techniques that may not produce results equal to the training efforts. The internet was the obvious choice to make the biggest difference in fitness results and athletic goals in the least amount of time.
Second, with the modern world's concerns for energy conservation and natural resource preservation- downloaded programs can be read on the end user's computer or digital book reader. Printed materials are reserved for only the training schedule each week which includes the training log as well. Additionally, customers not only receive their products instantly- there are no shipping costs or the energy use involved with shipping, no backorder issues, or incorrect shipments to deal with.
Third, with the economic challenges facing people and markets around the world- these programs are assembled in a simple training manual, using simple illustrations instead of expensive glossy color formats. This format reduces production costs to the point of being affordable to all, and although the training programs are perfectly suited for the most expensive health clubs or gym environments- they require nothing beyond an adjustable weightlifting bench and a basic set of weights and can be performed in a home gym. This could potentially save the customer the costs of health club or gym memberships- creating another economic advantage.
The 10 Buck Training Methods were developed from over 3 decades of weightlifting training diaries and logbooks scoured for the workout structures and intensity techniques that have produced the most results in the shortest time period- from muscle size and strength gains, to increased cardio fitness and endurance. The best results producing techniques were then combined into a single training structure with 4 levels of training intensity to suit both the individual fitness and strength goals of each unique customer, as well as the amount of time available to exercise each day. By combining and/or overlapping specific intensity techniques, and creating a training schedule that gains additional efficiencies through overlapping muscle groups and varied intensity levels. The workout training times claimed are remarkably reduced when compared to a conventional weightlifting or bodybuilding program.
The reduced workout training times are a critical component of The 10 Buck Training Methods that help athletes maintain a consistent workout schedule in today's fast paced lifestyles- which are the main reason for inconsistent workout schedules, and hence, inconsistent fitness results.
The 10 Buck Training Methods flagship year round training programs are offered in 2 categories: for those under the age of 40, and for ages 40 and over- addressing the different fitness and recovery needs of those two groups, as well as the differences in flexibility, joint strength, and fat loss goals. There are also off-season versions of these programs designed to focus on strength and power training. In addition to the flagship programs- there are a series of advanced training reports being released in February 2010, and additional advanced bodybuilding and specialty fitness programs scheduled for release later this year.
For additional information on The 10 Buck Training Methods, contact Michael Gajor or visit http://www.10buckfitness.com. For additional media inquiries, you may also visit the News & Information page on the website for specific PR requests.
About 10BuckFitness.com:
10BuckFitness.com is a complete fitness, weightlifting, and bodybuilding internet portal focused on changing the way people of all ages and athletic disciplines approach fitness, weight training, and sports performance with revolutionary workout programs. The website also provides nutritional supplements, apparel, equipment and fitness related books and magazines. All training programs are reviewed by certified personal trainers prior to public release.
###