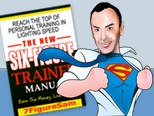 The way to gain a good reputation, is to endeavor to be what you desire to appear. ~ Socrates
Chino Hills, CA (PRWEB) January 31, 2012
Fitness Marketing pro Sam Bakhtiar, also known as "7 Figure Sam" has a passion for helping others earn a lucrative living and he's just released a free fitness marketing course for visitors to his website Super-Trainer.com. The free course includes a blue print for how trainers, gym owners, and other fitness professionals can start earning six figures in as little as 67 days. The manual covers a business start-up assessment, tactics list, action plans, and the hidden marketing distribution channels fitness professionals can use to pick up great clients.
Super-Trainer.com is an internet website and multimedia platform designed specifically for fitness professionals to learn how to market their business successfully using online and offline tactics. Bakhtiar and an entire host of fitness marketing professionals post their step-by-step strategies on a daily basis.
7 Figure Sam is highly respected in fitness marketing circles because of his success and down to earth attitude. One fitness expert describes Sam by saying, "Sam is just one of those special people that you meet only a few times in life, that can influence you and propel you FAR beyond any of the tactical information he shares with you. You will find, as I have, that simply knowing him and soaking in some of his energy will VASTLY increase your income, attitude, and well being."
To get instant access to the free fitness marketing email go to Super-Trainer.com and sign up now.
About Super-Trainer.Com:
Super-Trainer.com is a Fitness Marketing website and community owned by personal trainer and entrepreneur Sam "7Figure Sam" Bakhtiar. Bakhtiar specializes in helping fitness enthusiasts including personal trainers, gym owners, and boot camp operators run a successful business. Super-Trainer.com utilizes a unique marketing and community platform that allows interested fitness professionals to post helpful information on how to leverage business resources and marketing tips to grow their business.
###