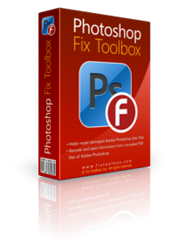 Photoshop Fix Toolbox, a powerful tool that can quickly and reliably fix corrupt PSD file contents.
Sacramento, CA (PRWEB) March 13, 2013
Fix Toolbox, the company known for its reliable, efficient and affordable recovery solutions, announces the recent release of Photoshop Fix Toolbox, a specialized tool for instant recovery of the contents of damaged Photoshop PST files. The software saves users ample amounts of time and money by allowing them to fix corrupt PSD files without leaving their workplace and resorting to the services of companies specializing in data recovery. The program has a clear, intuitive and self-explanatory interface that uses a step-by-step wizard to guide the user through the process. Photoshop Fix Toolbox supports data recovery from PSD files created in Adobe Photoshop version 3 and above and does not require the presence of Photoshop itself on the user's computer. The software will fix corrupt PSD files, restore layers and their contents, as well as layer properties, which is especially important when a large multi-layer file with the results of several weeks of work gets damaged after a power and hardware failure. Photoshop Fix Toolbox analyzes corrupted files and shows detailed statistics of recoverable content found in them.
"Photoshop is the number one photo editing tool in the world and the value of images created in it is often extremely high. That's why our decision to create a program that would fix corrupt PSD files and restore its contents came quite naturally," says Boris Bobrov, Product Manager at Fix Toolbox. "I am sure that the latest version of Photoshop Fix Toolbox will help many more users recover the results of their work – now faster and more efficiently."
Photoshop Fix Toolbox and other data recovery software is available for download at the official site: http://www.fixtoolboxx.com/download.html