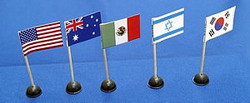 Atlanta, GA (PRWEB) July 10, 2008
The Flag Company, Inc., based in Atlanta, GA, has expanded its already large line of toothpick flags to accommodate the high demand for the unique celebratory item.
Fun. Cute. Nice touch. These are just a few of the words used to describe the effect toothpick flags have on parties and special events. Whether it's a Happy Birthday party, a St. Patrick's Day celebration, or a retirement party, toothpick flags will add that little finishing touch that will make your party just a little more special. They decorate cupcakes, sandwiches, cheese cubes, fruit for drinks - the list is endless, but the "Wow" factor knows no bounds.
The lowly toothpick flag began as an "off-the-cuff" remark last year, but has become the surprising celebrity of the stock merchandise category. Company executives were discussing the range of sizes for the U.S. flag (from 12"x 18" up to 30'x 60'), that the company has on hand and someone joked, "The only size we don't have is toothpicks". It was the ultimate "Ah Ha" moment.
The basic toothpick flag line began with toothpick flags for all the states and all the member countries of the United Nations. These were popular with companies that have locations in multiple states or that conduct business internationally. Additionally, companies asked for corporate logos and other custom designs to be printed to order and assembled for special events.
But The Flag Company, Inc. did not stop there and began adding decorative toothpick flags for all kinds of occasions to its line so that now there are over fifty stock decorative designs. The Flag Company, Inc. has made toothpick flags for every holiday, every type of family celebration, every type of corporate event and for any other social gathering deemed worthy of commemoration.
Designs were created, production commenced, the tech department set them up on the internet, marketing buzz words were settled on and then toothpick flags became a reality on The Flag Company, Inc.'s Internet store.
In 2007, almost 3,000 boxes of toothpick flags were sold. Those are boxes of 100 for decorative, state and international flags. Custom toothpick flags accounted for an additional 135,000+ toothpick flags.
What began as a whim has become a surprising and fun item for people to memorialize first birthdays, weddings, 50th anniversaries, holidays and Super Bowl parties. Companies like them for annual conventions and picnics with the corporate logo or some other suitable design. To find the toothpick flag to make your own gathering a little more special, visit The Flag Company, Inc.'s website, and browse all the colorful designs readily available. Don't see exactly what you want? Not a problem - The Flag Company, Inc. will make it for you. Just remember the "Wow" factor.
About The Flag Company, Inc.
The Flag Company, Inc. is a manufacturer and distributor of flagpoles and flags to all segments of the business community and to individuals. Located in a suburb of Atlanta, The Flag Company, Inc. resume includes flagpoles at Turner Field, Hartsfield-Jackson International Airport and the 1996 Centennial Olympic Games. For more information, visit http://www.flagco.com.
###