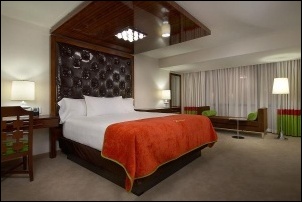 The addition of the Flamingo 'GO Rooms' brings energy to the property that complements our diverse line-up of entertainers and restaurants
LAS VEGAS (PRWEB) April 4, 2007
The resort introduced Las Vegas visitors to the Flamingo "GO Room" product in the fall of 2006, with the refurbishment of 636 standard rooms and suites. With flashy style, sophisticated entertainment systems, and splashes of classic Vegas decor, the Flamingo "GO Rooms" provide a one-of-a-kind guest room experience, at the popular center-Strip location.
"The addition of the Flamingo 'GO Rooms' brings energy to the property that complements our diverse line-up of entertainers and restaurants," said Don Marrandino, President of Flamingo Las Vegas. "Guests enjoy the quality, technology and attention to detail in each new room."
The completion of 30 new GO Metropolitan suites highlights the second phase of the renovation. With Strip views from floors 27 and 28, the suites are the quintessential example of lavish Las Vegas lodging. Each two-bedroom, 1500 square-foot suite is adorned with rich hardwood floors, two opulent marble bathrooms, three entertainment centers and four 42" flat-panel high-definition television sets. Accented with vibrant green, interspersed with browns and splashes of orange, the decor takes a fresh approach to the retro Flamingo style.
Also introduced during phase II of the renovation are 14 GO Cosmopolitan suites. These spacious, 800 square-foot one-bedroom suites featuring living and bar areas are decorated with vibrantly striped wallpaper and accents of signature Flamingo pink.
GO Neapolitan suites measure 650 square feet, consist of one bedroom and a living area, and are also decorated in a combination of Flamingo pink and coordinating striped wallpaper. A total of 38 GO Neapolitan suites will be available upon the completion of Phase II.
Created by Cagley & Tanner, the same Las Vegas-based interior design firm that developed the Flamingo "GO Room" concept, the Classic Suites display a modern and sleek theme.
"These rooms were inspired by the golden age of the Flamingo, when the building was an architectural triumph of Modernism," said Lee Cagley of Cagley & Tanner.
"From the sweeping cantilevered curve of the sofa and the deep pile plush rugs, to the dark headboard with tufted ebony patent leather, everything is meant to be cool, relaxed, and fun."
Tech-savvy guests will enjoy the state-of-the-art technology found in each newly renovated room. Each space is equipped with a Denon(R) sound system with an MP3 player docking station, CD/DVD player, remote control blinds, LED reading lights, wireless internet, and high-definition televisions.
The second phase of room renovations is slated for completion in November 2007. GO Metropolitan and GO Neapolitan suites are on sale now. Virtual tours of the new Flamingo GO Rooms and Classic Suites are available online at http://www.harrahs.com/goroom/index3.html.
Located in the heart of the Las Vegas Strip, Flamingo Las Vegas features over 3,500 guest rooms and top headline entertainment, including multiple Grammy award-winning artist, Toni Braxton. The resort offers 77,000 square-feet of action-packed casino space and a beautifully-landscaped wildlife habitat surrounded by sparkling waterfalls and lush tropical gardens.
For high-resolution photos of the new Flamingo GO Rooms and Suites, go to media.harrahs.com.