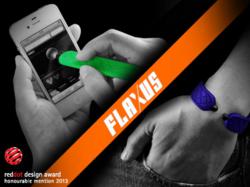 My team and I anticipate a very successful campaign for FLAXUS and we expect the stylus to not only reach its funding goal, but greatly exceed it.
Charlotte, NC (PRWEB) March 19, 2013
FLAXUS is the world's first mobile stylus which allows users to wear it on their wrist like a bracelet, offering not only convenience, but style as well. Currently, FLAXUS has launched a crowdfunding project on the popular site, Kickstarter, in order to raise the funds necessary to bring the product to market, and has sought out Command Partners for assistance.
Why choose FLAXUS over any old stylus? Carrying a conventional stylus is inconvenient because it's easy to forget or misplace. A pen-shaped stylus can be uncomfortable in your pocket, and although pocket-sized styluses may be easier to carry, they're often too tiny to write with. Yanko Design says FLAXUS is "putting the STYLE in stylus," and wherever one may go, FLAXUS is always within reach.
"We've spent many months perfecting the structure and design of FLAXUS," says Jack Chau, owner of AEGLO and creator of FLAXUS. "It's washable, waterproof and its dual tip design ensures that you'll never be holding it the wrong way."
With a funding goal set to $10,000, FLAXUS has already raised over 50% on Kickstarter and has now brought in crowdfunding experts, Command Partners, to carry out the rest of the campaign successfully. While Command Partners takes over FLAXUS' digital marketing initiatives, Chau and his team now have more time to work closely with their manufacturer and focus on the logistics of his campaign.
"FLAXUS is an accessory that's able to assist in navigating or providing more precision when using touchscreens, which is something we can all relate to nowadays," says Roy Morejon, owner of Command Partners. "My team and I anticipate a very successful campaign for FLAXUS and we expect the stylus to not only reach its funding goal, but greatly exceed it."
Command Partners will use a comprehensive approach to support FLAXUS' Kickstarter goals which includes pitch crafting, media list building, media outreach, press release writing and distribution, social media management and more. Command Partners has worked successfully on many high-level Kickstarter engagements, and has a keen understanding of the critical role they will play in forging this campaign into something Chau will be proud of.
For more information on FLAXUS, visit the products Kickstarter campaign page here: http://bit.ly/FLAXUSKS where users can support the project by purchasing two for just $24. Be sure to make all donations before the last day of the campaign on April 12, 2013.
About AEGLO
AEGLO™ stands for Alpha . Evolution . Gear . Lifestyle . Original., and serves as the official store for those who seeks trendy, fashionable, and lifestyle enhancing products. We are a dynamic team who are obsessed in bringing cutting-edge, stylish, and extremely functional products to the marketplace. We design, define, or discover products that strive to enhance your individuality by merging technology with stylish elements. From producing our own designed items to collaborating with other creative minds, our goal is to bring you unique products that are one of a kind. For more information on AEGLO, visit http://www.aeglo.com, Like them on Facebook and Follow them on Twitter @aeglobrand.
About Command Partners
Command Partners is a digital media agency that focuses on driving online visibility and lead generation including social media marketing, search engine optimization, public relations and strategic advisory services. Command Partners works with clients ranging from high-tech startups and e-commerce brands to Fortune 500 companies. The agency is located in Charlotte, North Carolina and works with clients around the globe.
For more information on Command Partners' services, visit http://www.commandpartners.com, Follow them on Twitter @CommandPartners and Like them on Facebook.