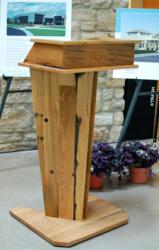 We were looking for a piece that would combine contemporary design and antique materials…something fitting for our new Student Center.
It's awesome!
Farmington, NY (PRWEB) May 18, 2012
In continued support of Finger Lakes Community College (FLCC) green initiatives, the fine woodworking group at New Energy Works designed, crafted, and donated a podium using reclaimed oak, salvaged from wine vats. The podium was unveiled at the Grand Opening of the Student Center in May. The new Student Center is the first public building in Ontario County, New York which is eligible to be certified as environmentally friendly under the Leadership in Energy and Environmental Design (LEED) rating system of the U.S. Green Building Council.
"We wanted a piece of furniture, not a library book stand; a podium, not a lectern. We were looking for a piece that would combine contemporary design and antique materials…something fitting for our new Student Center," explained Amy Pauley, the executive director of the FLCC Foundation. Upon seeing the completed piece for the first time, Amy exclaimed, "It's awesome!"
"I had recently viewed a collection of furniture designed by Frank Lloyd Wright from his "origami" series," says Marty Avila, fine woodworking designer and project manager. "This was a period where Wright used many sloping compound angles in his furniture and cabinetry pieces. The designs exuded an air of modernism mixed with rich wood textures and colors. They were the perfect springboard for the design of the podium. The richly colored antique wine vat oak fit the project's sustainability goals and also offered unique history."
Pioneer Millworks, sister company to New Energy Works Timberframers, reclaimed the antique vats from a winery in the Finger Lakes Region of NY. After decades containing fermenting grapes, the oak staves gained a dappled surface with deep honey toned patina, and unique texture unmatched by fresh sawn wood. The staves met the sustainable, environmentally conscious requirement for the project, were locally sourced, and offer a rich and interesting history. The podium includes LED lighting, microphone wiring, and maintains the traditional tilted upper platform for the speaker.
Wine Vats:
Large, wine vats, often measuring over 10' in diameter, are constructed with white oak which affects the color, flavor, and tannins in the wine. Once the vats have outlived their use, they are removed from the winery and disassembled. In addition to the podium, New Energy Works crafts custom furniture, paneling, doors, and more from this antique wood.
FLCC's Student Center:
The Student Center has 192 solar panels on the roof, low-maintenance landscaping, high-efficiency heating and cooling systems, low-flow plumbing, 95 percent recycled structural steel, stone quarried in New York state and sustainably harvested wood products. It includes a bigger cafeteria and bookstore, student club rooms, enrollment offices, and allows portions of the main building to be remodeled into additional classrooms and laboratories.
New Energy Works Timberframers have been designing and building environmentally responsible timber frames across the USA for nearly 30 years from their facilities in New York and Oregon. Offerings include: Timber Framing (design, engineering, manufacturing, build), Enclosure Systems, Fine Woodworking, Recycled and Sustainable wood products. New Energy Works has 2 LEED AP staff members and is a member of the US Green Building Council.