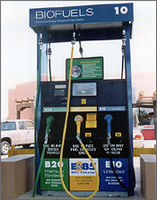 With an average of over 50% lower GHG emissions, this relatively low cost upgrade to a car not only is environment friendly, it can also save money and help lower fossil fuel imports
Rio de Janeiro, Brazil (PRWEB) March 6, 2008
This enhances your vehicle by turning it into a Flex Fuel Vehicles (FFV)
Today we see a growing roll out of E85 (85% Ethanol and 15% gasoline) fuel pumps in forecourts and the flex fuel kit converter is optimized to use this fuel and adapt automatically and economically to any mix below this.
So, what is Ethanol?
Ethanol is ethyl alcohol which needs to be 100% pure. Ethanol is the highest performance fuel on the market and keeps today's high-compression engines running smoothly.
Currently, 10% of the Brazilian vehicle fleet is already composed of flex fuel vehicles, technology which permits the use of alcohol, petrol or any mixture of both fuels. Alcohol has been used in a large scale throughout the country, in passenger vehicles, since the 1970s. Brazil is now the second main world producer of ethanol, with production of 17.8 billion litres.
SAVE our environment. Using E85 has a dramatic effect on lowering green house gas (GHG) emissions with tests showing CO2 emissions lower by 40% to 70%, depending on the vehicle and driving conditions. "With an average of over 50% lower GHG emissions, this relatively low cost upgrade to a car not only is environment friendly, it can also save money and help lower fossil fuel imports" said Mr Vidar Lura, managing director of Abcesso Tehnology. He added "we have seen in Brazil over the past 20 years the very positive impact this converter technology and FFV take up has had on lowering dependence on fuel imports and helping keep our air cleaner".
Save on fuel and service costs. Running a car on E85 with an flex fuel kit converter improves performance, the car runs cleaner and it can save money. Flex fuel kit also provides the driver the option to fill up with any mix of fuel whenever price is beneficial.
Flex Fuel kit is a plug and play upgrade, once plugged in no additional switching or calibration is ever needed. It can also be removed at any time so the original manufacturer's vehicle specification is maintained.
Flex Fuel kit converter system is manufactured in Brazil for Abcesso Technology, to the highest quality standards.
We have the best product for the after market in Flex Fuel Kit and are seeking committed and enthusiastic distributors worldwide.
For more details visit Flex Fuel Kit Technology
Press Contact:
Vidar Lura
Product photo's and diagrams are available on request.
###