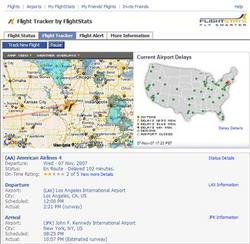 We worked hard to build a flight tracker that supports FaceBook users' imperative to share with friends. And we feel as if we're just beginning to tap into the potential for combining travel technology and social networking
Portland, OR (PRWEB) November 15, 2007
FaceBook users can now track and share the status of their flights, receive flight status alerts, and get current airport and weather conditions right from their FaceBook profile page using a new application from FlightStats. The new application -- Flight Tracker by FlightStats -- lets users share their flight status and location with their FaceBook friends and follow the progress of friends' flights over a map.
Installing the Flight Tracker on a FaceBook profile page provides free access to detailed global flight status information, accurate arrival and departure data, world-wide airport arrivals and departures, map-based, real time flight tracking of commercial flights in US airspace and more.
"We worked hard to build a flight tracker that supports FaceBook users' imperative to share with friends. And we feel as if we're just beginning to tap into the potential for combining travel technology and social networking," said Jeff Kennedy, CEO of Conducive Technology, developer of FlightStats.
The application delivers a rich flight status and flight tracking experience, airport weather and delays, flight ratings, airport ratings and flight status alerts using FlightStats global, real-time data within the FaceBook environment.
The interactive Flight Tracker application refreshes automatically as the flight progresses showing the flight's progress over a Google (tm) map. Companion screens show weather information in both the arrival and departure cities and alert users to any airport delays that might affect the monitored flight. Flight information displayed below the map includes the on-time arrival performance rating for the monitored flight, its scheduled and actual departure time, and its estimated arrival time.
Flight Alerts Keep Users and Friends Informed
Flight Tracker for FaceBook lets a user set up any number of flight status alerts for specific flight arrivals and departures, each with its own notification options. For any given flight alert, a user can select to have messages:

Be sent as a Facebook Notification to their own account
Posted to their mini-feed along with a flight description for sharing with friends
Emailed to any specified address
Sent as a text message to a mobile device
Alert messages are sent for:

Status confirmation up to 3 hours prior to departure
Notification if the flight is delayed by more than 30 minutes
Notification if the flight is canceled or diverted
Arrival notification when the flight lands
Users with a FlightStats account can link their FaceBook profile to their FlightStats profile by simply entering their FlightStats user name and password. This synchronizes the user's preferences such as home airport, email address and mobile phone number for use both in the FaceBook Flight Tracker and on FlightStats.com.
Install the application on a FaceBook profile page today by visiting the Flight Tracker by FlightStats "about" page at:
http://facebook.flightstats.com
About FlightStats:
FlightStats is an airline, airport, and travel information service provided by Conducive Technology Corp. On our Web site at http://www.flightstats.com/ visitors can get flight status, view on-time performance ratings by flight or by airline, check for current airport delay and weather information, and much more. All services are free to site visitors and many services are available as widgets for installation on other web sites or personalized home pages such as iGoogle and Microsoft Live. FlightStats provides global flight status information and is the definitive source for historical airline performance data. Conducive Technology is also a leading supplier of air travel information services to travel agencies, logistics professionals, airlines, airports and industry analysts through software services and application programming interfaces (APIs).
###