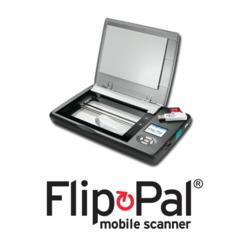 "We are very proud of the new features and functionality of the Flip-Pal software and toolbox. We believe our customers and partners will find it much more intuitive and simple to use." —Gordon Nuttall, Founder and CEO of Couragent
Fort Collins, CO (PRWEB) March 21, 2013
The Couragent, Inc. Flip-Pal mobile scanner team will be attending the RootsTech Family History and Technology Conference, March 21-23, at the Salt Palace Convention Center in Salt Lake City, UT. This unique conference brings technologists together with genealogists to find solutions to the challenges of genealogy research. During the three-day conference members of the Flip-Pal mobile scanner team will demonstrate the benefits of using the new Flip-Pal Software and Flip-Pal Toolbox in booth # 328.
Flip-Pal Software 2 comes with a new, intuitive interface with web-like navigation. When customers use the Flip-Pal EasyStitch software to "stitch" scans of large originals, they will appreciate that the scans to be stitched, as well as the final stitched images, are larger and easier to view. Scans can easily be shared and uploaded to the web—and the new "Community" page allows users to connect with other Flip-Pal mobile scanner owners, partners, videos and more. With the Flip-Pal Software 2, users can easily get the latest changes in Flip-Pal tools and software with a single button.
Customers can update to the new Flip-Pal Software 2 by visiting flip-pal.com/customer-care and clicking the "downloads" tab.
Diane Miller, Flip-Pal mobile scanner genealogy expert, will demonstrate the new Flip-Pal Software 2 and Flip-Pal Toolbox 2 design at the Demo Theater in the Exhibit Hall on Thursday, March 21 at 4:20 p.m.
Also on Thursday, at 4:15 p.m., Flip-Pal mobile scanner ambassador Thomas MacEntee will present "Collecting the Fabric of Life – Scanning in 3D" in Room 255B.
"We are very proud of the new features and functionality of the Flip-Pal software and toolbox. We believe our customers and partners will find it much more intuitive and simple to use," said Gordon Nuttall, Founder and CEO of Couragent, the maker of the Flip-Pal mobile scanner.
The Flip-Pal mobile scanner is for memory keepers who want to conveniently and reliably scan photos, documents and artwork—so that they can be stored digitally and then shared with family and friends. Flip-Pal mobile scanner partners will be selling the scanner in the Exhibit Hall during the conference.
The Flip-Pal mobile scanner redefines photo and document scanning. With its patented flip-and-scan technology, the scanner is placed on an object, keeping it safely in place rather than having to remove it from an album or frame. The exclusive EasyStitch software can take multiple overlapping scans and "stitch" them back together to form one complete image, a major "memory collection" enhancement for the burgeoning scrapbooking and genealogy markets, and for millions of households who want to preserve their family histories, photographs and precious memories.
Couragent provides patented solutions that solve everyday problems, are designed to be simple to operate so many can use them, and have a combination of benefits that are not available anywhere else.
The Flip-Pal® mark is a registered mark of Couragent, Inc.
The Couragent™ mark is a trademark of Couragent, Inc.
The Couragent, Inc. website: http://couragent.net
The Flip-Pal mobile scanner website: http://flip-pal.com