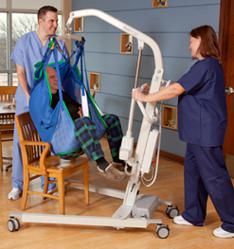 We have expanded our line of floor lifts to give healthcare professionals and caregivers more options when moving or transferring their patients and residents.
St. Louis, Missouri (PRWEB) March 28, 2013
Prism Medical, a manufacturer of safe patient handling products for use in acute care settings, long term care facilities, in-home care and other patient/resident applications, recently added four new lift products to their already extensive line of lifts. The new lifts include two floor lift models, a bariatric floor lift and a sit-to-stand lift.
"We have expanded our line of floor lifts to give healthcare professionals and caregivers more options when moving or transferring their patients and residents," said Dale Nash, Vice President of Marketing at Prism Medical. "The new products include a broader range of styles and weight capacities, while featuring higher functioning electronics, mounted to lighter weight frames. The line offers several new features as standard equipment, as well as a higher overall performing family of products."
Prism Medical FGA-330 Portable Floor Lift: Mobile lift with a lightweight design and folding capabilities, this is a convenient tool for a visiting home healthcare professional or a family that is on the go. The FGA-330 is ideal for all the most common lifting situations as it lifts from bed to wheelchair, to and from the commode, or for lifting someone who has fallen to the floor.
Prism Medical FGA-450 Total Floor Lift: The most versatile and cost effective mobile floor lift in Prism Medical's line of floor lift products. The aluminum frame is made to offer the highest in weight bearing capability for a midsize lift (450lbs), yet is lightweight and easy to maneuver. The unique quick release design for the carry bar allows use of other Prism Medical carry bar models. The lifting range allows a patient to be lifted from the floor and transferred to a raised bed.
Prism Medical SGA-440 Sit-to-Stand Lift: A smooth and versatile lift that is intended for patients that can actively participate in a transfer. Once the patient is in a standing position, transferring to a wheelchair or commode is easily and smoothly completed. This type of transfer is also beneficial because it gives the patient valuable standing training while being transferred. The SGA-440 allows for a wide range of adjustments to the leg supports and the lifting bar. These adjustments enable the caregiver to adapt the transfer to pain sensitive patients or patients paralyzed on one side, with no need for additional equipment or separate lifts.
Prism Medical FGA-700 Bariatric Floor Lift: Designed for higher weight capabilities. This floor lift delivers a smooth and stable support during therapy sessions and in gait training. Featuring a double support bar for added strength, the FGA-700 also has a quick release design for easy removal and offers stability and easy height adjustment for worry free operation.
About Prism Medical Inc.
Prism Medical Inc. is one of the largest providers and manufacturers of innovative patient moving, handling and repositioning solutions for institutional use and home care. Prism Medical's safe patient handling products include patient lifts, bed repositioning and transfer products, inflatable emergency lift chairs and patient bathing systems. Prism Medical also offers home medical solutions and equipment via Nightingale by Prism Medical. For more information, please visit http://www.prismmedicalinc.com.