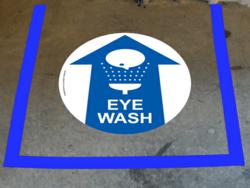 (PRWEB) March 25, 2013
The month of March is Eye Wellness Month and Stop-painting.com is offering a new eye wash floor marking kit. The floor sign kit comes with a 17.5 inch sign and a border color of your choice. The border is Stop-painting.com's patent pending Superior Mark TM tape. The Superior Mark border is puzzle cut to make the corners fit precisely and neatly. The border has one 24" center piece and two 36" strips that form a border around the sign. The floor signs are available in vinyl, rubber, and inlaid epoxy. The vinyl and rubber are common among light traffic areas, while inlaid epoxy floor signs are permanently embedded for use in heavy traffic areas.
The vinyl and rubber floor signs install easily, just by properly cleaning the floor and a peel and stick. The inlaid is the most durable and designed to be compatible in forklift areas. To install the inlaid floor sign, first create a border and clean with alcohol. Second, use adhesive spray to adhere sign to floor. Finally, mix the epoxy and pour over the sign. With the Eye Wash Floor Marking Kit installed, employees and others not familiar with the warehouse can quickly locate the eyewash station in an emergency. Stop-painting.com has many more floor sign options for specific needs.
Other options include free standing, indoor, outdoor, or a customized floor sign. Stop-painting.com can even make a custom warning or company logo sign. The signs will greatly increase safety and organization in the warehouse.
Superior Mark floor tape is designed to withstand all warehouse traffic. Superior Mark is 32 mils thick and is offered in 2" and 4". The recessed adhesive and beveled edges are the key in to durability against forklift traffic. The marking tape has a smooth, glossy finish that is easily cleaned. Applying Superior Mark Tape is quick and simple. After cleaning the floor with an alcohol based cleaner, tamp the tape down to activate the adhesive. The tape requires no down time in plant after applying. Superior Mark is offered in multiple colors and is great for 5S and lean customers.
Contact details
Visit the manufacturer's website, http://www.stop-painting.com. Stop-painting.com is the leading expert on industrial floor marking and designs floor marking solutions for traffic control, Lean/5S organization, industrial safety, OSHA compliance, and other custom applications. The parent company, InSite Solutions, holds a patent for a traffic marking tape design. For more information, please contact Cliff Lowe at 1-866-284-1541.