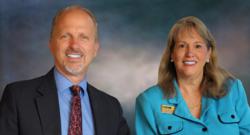 Be wary of the agent who will overprice your home just to get your listing.
Vero Beach, FL (PRWEB) March 04, 2013
Coldwell Banker Paradise Brokers/Co-Owners, Linda Schlitt Gonzalez and Steven Schlitt offer ten tips on what to look for in a Real Estate Sales Professional.
1. Always choose an agent with the designation of REALTOR®. All Realtors® are real estate sales persons, but not all real estate sales persons are Realtors®. The term Realtor identifies that the agent has pledged to a strict Code of Ethics and Standards of Practice. This code is enforced by the National Association of Realtors®.
2. Hire an active agent whose full time career is listing and selling real estate. You want to be sure your agent is on the job when needed to discuss and show your home.
3. Be wary of the agent who will overprice your home just to get your listing. Find an agent who will show you a Comparative Market Analysis to help you price your home for the current market. Banks will not loan on a home that is priced higher than its appraised value. Statistically, an overpriced property sells for less than it would have if priced realistically from the start.
4. Choose an agent who will keep you informed. You need an expert to support you and explain the transaction from the listing process through the closing.
5. Hire a full service professional. Discount brokers do not offer marketing or negotiating skills. An experienced agent will handle problems that arise during a transaction.
6. Find an agent that lives nearby. You want a professional who can service your home on short notice and inform your Buyer as to the services and features of your community.
7. Hire an agent who will return your calls and emails.
8. You want an agent who will provide feedback. If you learn how an outsider views your home, you may be able to tweak a few things to make your property more appealing to buyers.
9. Make sure your agent is 'tech savvy'. Your agent should showcase your home on sites such as Trulia.com and Realtor.com with plenty of photos online for buyers to see.
10. Hire a well trained agent. According to Training Magazine Coldwell Banker is first over all other real estate companies in the nation for training their real estate professionals.
Contact a real estate professional to guide you with the sale of your Vero Beach home, Port St. Lucie real estate, Ft. Pierce real estate, Sebastian home, Melbourne Florida real estate and Florida beachfront homes on the barrier islands. Browse our website at http://www.FLColdwellBanker.com for information regarding the local cities, to check prices on homes similar to yours, and to search hundreds of listings.
To speak with a Coldwell Banker Paradise expert, telephone us at Vero Beach Island 772-231-4880 | Port St. Lucie 772-878-3200 | Ft. Pierce 772-461-3250 | Sebastian 772-589-7777 | Vero Beach mainland 772-778-2029 | S. Hutchinson 772-461-1324 | N. Hutchinson 772-464-7007 | Melbourne 321-951-3300. Join Coldwell Banker Paradise. Check out our 'Careers' page at http://www.FLColdwellBanker.com/content/careers-0.
About the company:
Coldwell Banker Paradise has grown to span 100 miles along Florida's Space and Treasure Coast selling Port St. Lucie real estate, Fort Pierce real estate, North and South Hutchinson Island real estate, Vero Beach real estate, Sebastian real estate, and Melbourne, FL real estate.