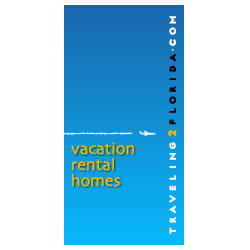 As our site grows, we are looking to add additional quality Florida vacation rental listings from across the state to bring in new traffic and new attention to our site
Orlando, FL (PRWEB) November 28, 2007
Traveling2Florida.com, which connects the owners of Florida vacation rental properties with those looking to rent a home, will be offering free listings for owners while the site grows. These listings are entirely free, with no obligation to pay any fees if and when the site begins to charge for its services in the future.
Free listings are available for all Florida vacation rental homes in all areas and include up to 12 images of the home, a description of unlimited length, and a link to the home's website or to a virtual tour of the home that the owner has created. Visitors to the site who are interested in renting a home can contact the owner directly.
"As our site grows, we are looking to add additional quality Florida vacation rental listings from across the state to bring in new traffic and new attention to our site," said Fraser Hannah, owner of Traveling2Florida.com. "We are offering free listings to owners in Florida who are looking for an easy way to attract new renters to take advantage of their rental homes."
These free listings represent a savings of up to $189. Free listings are guaranteed to remain active for at least six months. These listings are without obligation - if Traveling2Florida.com decides to begin charging for listings at any time, owners of Florida vacation rental properties taking advantage of the free listing offer will be given the option to continue to have their listing on the site for a fee or to remove it with no strings attached. Traveling2Florida.com reserves the right to cancel the free listing offer at any time.
To get a free listing for your Florida vacation rental, please visit http://www.traveling2florida.com.
About Traveling2Florida.com:
Traveling2florida.com was founded in 2003 in response to the frustration felt at the lack of vision shown by many of the existing vacation rental sites. Traveling2Florida.com now connects thousands of travelers directly with the owners of high-quality vacation rentals in Florida, from Orlando to the Florida Keys. For more information about listing rental properties on the site or about finding a property to rent, please visit http://www.traveling2florida.com.
###