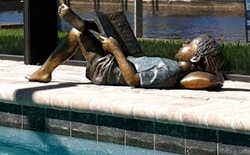 MikeysFloridaHouse.com is a game changer. It changes the way sellers now can market their home and it changes the way buyers now have access to real estate for sale
Cape Coral, FL (Vocus) November 19, 2010
The launch of http://www.MickeysFloridaHouse.com by Zen Real Estate of Southwest Florida is the new dawn of real estate marketing and communication. MickeysFloridaHouse.com offers waterfront homebuyers a look into the lifestyle of a Gulf access canal, pool home in Cape Coral, Florida and offers access to tour the home directly to the buyer and the opportunity to chat informally with broker Robin Speronis through instant messaging.
"MikeysFloridaHouse.com is a game changer. It changes the way sellers now can market their home and it changes the way buyers now have access to real estate for sale," commented broker Robin Speronis.
Mickey's Florida House is a waterfront 3 bedroom, 2-bath pool home located in Cape Coral, Florida on a Gulf of Mexico access canal. To view this home, gain access to a private tour and informally chat with broker Robin Speronis via instant messaging visit http://www.MickeysFloridaHouse.com. For more information about Zen Real Estate please visit http://www.AskZenRealEstate.com.
###