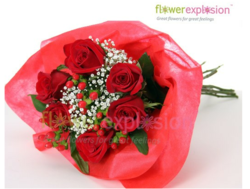 Wilmington, DE (PRWEB) March 25, 2013
While weddings are a joy for all, flower companies deem this to be an ideal time to make profits. This is especially true in the case of certain seasonal flowers which are often part of wedding themes. As soon as the wedding season sets in, their price rises. A reasonable alternative to this situation is Flower Explosion, which offers affordable pre-booking wedding flowers rates. These discount promotions are being managed by LAD Solutions, a reputable online marketing firm from Los Angeles, California.
One of the core competencies of Flower Explosion is the availability of fresh flowers for any occasion, and they offer multiple designs to their consumers. They also provide effective customer care as there is an option of pre-booking to save money. Customers who purchase flowers for a wedding at the right time can not only can relax, but also gain the satisfaction of cost savings.
The savings that Flower Explosion offers are also available on its flower deals. Features like "wedding in a box" allow multiple floral arrangements at a very affordable price. Not only is this feature highly customized, but it comes in different deals like standard, premium and exclusive.
As for the wedding, consumers can opt for a variety of bouquets. The diversity ranges from the ever-in-demand premium roses to easy-on-the-eye Chrysanthemums. For a blend of aesthetic appeal and a serene look, orchids are a good option. All of these are freshly cut and only the best varieties are selected.
Rose petals are also regular features at weddings. Flower Explosion offers a wide range including unconventional colors like cream, tinted, peach, orange and green. The color customization makes it easier to match the petal color with the wedding theme. By enclosing them in plastic packing, they remain fresh as ever.
Wedding centerpieces are also offered by the company, without which the décor is often considered to be incomplete. Orders can be placed for personalized floral arrangements and all of the centerpieces are composed of premium class flowers. Custom design centerpieces can also be made to order.
The price for fresh cut flowers is dependent upon both the type and stem length. If they are bought as bunches, then a single bunch comprises 25 stems. A viable strategy would be to opt for a wholesale flower order. This would allow a massive saving on cost. The minimum number of stems necessary to make a wholesale order is 250.
Gifts are also considered the accepted norm for a wedding and there are some special deals involving flowers too, try a bouquet of roses adorned with glitter with a small gift, for instance.
The complete range of flower options can be found online together with information on custom choices and special bouquets. Customers interested in pre-booking wedding flowers at affordable rates can check out the company's official web page.
About Flower Explosion: Flower Explosion is a floral décor enterprise situated in Wilmington, Delaware. The service is focused on the provision of high quality flowers grown under ideal conditions. A diverse variety and high quality is insured via operations based in Quito, Ecuador. Please see the website for information on pre-orders on wedding flowers.