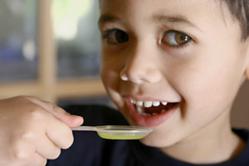 Flu-fighting liquid antiviral drugs, like Tamiflu, go down easier when a child can choose a favorite flavor for his or her medication
Columbia, Maryland (PRWEB) January 14, 2013
Parents whose children have been prescribed a liquid antiviral medication, such as Tamiflu, to help fight a flu infection, understand the importance of their child taking all the medicine as prescribed by the doctor. Unfortunately, this is much easier said than done. Many kids dislike taking medicine at all, especially when they are exhausted from an illness as draining as the flu. Couple this with the fact that flu-fighting liquid antiviral medications can have an unpleasant taste, and it is no wonder many parents struggle to medicate their children when they get the flu. Fortunately, many of America's pharmacies offer a service, called FLAVORx, to help overcome the bad taste of liquid medicines.
With FLAVORx, pharmacies provide a range of flavor options for parents and children to select for their liquid medications, no matter how the medication comes flavored by the manufacturer. Tamiflu suspension, for example, is made with a "tutti-frutti" flavor. Pharmacies that carry FLAVORx can not only mask the bad taste of the medicine, they can also change "tutti-frutti" into a flavor a child may find more appealing, like bubblegum, grape, strawberry, or cherry. With a shortage of the Tamiflu suspension once again occurring across the country, it is also important for parents to know that the compounded version of the medication, which is known to have a particularly unpleasant taste, can be custom-flavored at the pharmacy as well. Most pharmacies that carry FLAVORx provide 15 or more flavor options for children and parents to choose from.
While many pharmacists and pharmacy technicians will offer the flavoring service when a prescription is dropped off or picked up at the pharmacy, parents are also encouraged to request custom-flavoring when they are at the pharmacy. Many pharmacies will also allow parents to bring a liquid medication back to the pharmacy for custom-flavoring if their child struggles to swallow the medicine after they've taken it home. For a list of pharmacies that carry FLAVORx, go to http://www.flavorx.com/locate-flavorx.
The Centers for Disease Control and Prevention is predicting this current flu outbreak will spread for another two to three months. With nearly 6% of the country's population currently reporting flu-like symptoms, it is critical that parents understand how to prevent their children from getting the flu, and what to do if an infection occurs. While a flu shot is the first and best line of defense, properly taking a prescription antiviral medication, like Tamiflu, once a child has contracted the flu virus, can help lessen the severity and duration of the infection. Custom-flavoring for liquid prescriptions, a service widely-available in pharmacies across the country, is one proven way to help children take their medicine as prescribed so they can get better faster.
About FLAVORx
FLAVORx has been helping children take their medicine since 1994. The FLAVORx service is available in nearly all chain pharmacies, grocers, mass merchants, and many local independent pharmacies – over 40,000 locations in all. To find a FLAVORx member pharmacy, use the FLAVORx Pharmacy Locator found on the company's website. Using FLAVORx's copyrighted flavoring recipes, pharmacists have safely flavored more than 50 million prescription and over-the-counter medications, making it easier for children to take their medicine and for parents to give it. Pill Glide, a new pill swallowing aid, expands their compliance-based offerings and continues the company's mission of improving lives and health-related outcomes through higher medication compliance. For up to the minute information on FLAVORx, follow the company on Facebook.