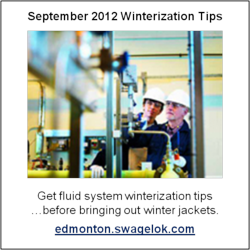 "When you are walking around outside in your t-shirt, it's hard to think about getting ready for winter. But if you wait until there's a chill in the air to get winterized, you will be too late.
(PRWEB) September 18, 2012
Swagelok Energy Advisors Inc. and Edmonton Valve and Fitting Inc., a Swagelok(R) sales and service center, are inviting professionals in the Edmonton, Alberta area to attend a series of complimentary webinars on winterization best practices. The next one, "Winterization: Steam Trap Stations for Tracing" is on Thurs, September 20th at 12:00 Noon Mountain Time.
"When you are walking around outside in your t-shirt, it's hard to think about getting ready for winter. But if you wait until there's a chill in the air to get winterized, you will be too late. Low temperatures can mean ruptured tubing or other problems that will stop production. That means unwanted downtime, unplanned labor costs and other headaches," says Tristian McCallion, local field service advisor for Edmonton Valve & Fitting and the presenter in the winterization briefings.
"Especially if you are a northern or central Alberta professional involved in operating a plant or facility where fluids are processed, these sessions are for you."
WEBINAR SERIES OVERVIEW

In Part 1 of this series, McCallion went over the basics of heat tracing systems to keep pipes from freezing. Those who attended the session will receive a link to replay it, in October.
In Part 2 on Thursday September 20th at Noon Mountain Time, McCallion will discuss steam trap stations for tracing.
In Part 3 on Sept. 27, he will cover unit heaters.
Each presentation is about 30 minutes, with some additional time for questions and answers.
Swagelok Energy Advisors (SEA) has a core team of four full-time field engineers in North America, who are on-site with Swagelok customers three out of every four weeks. In 2011, SEA conducted dozens of steam system reviews and training events. When needed, they can call on local specialists like McCallion at Edmonton Valve & Fitting.
"Swagelok Energy Advisors come out and do anything from Ten Action Points training to a three-day seminar with five or six different levels. Unlike general training that is conducted in conference centres, customized training involves coming out to your site. Often, the advisors will come out the day before to discuss specific issues, then tailor the next day's training to address them," McCallion explains.
"People understand they have to winterize, but most of the time it becomes a reactive procedure rather than proactive," he adds. "Really, you should already have the work done by the time you start thinking about bringing your winter jacket out."
ABOUT SWAGELOK ENERGY ADVISORS, INC.
Swagelok Energy Advisors, Inc. provides engineering, evaluations, project management and training programs for steam systems. As always, our goal is to deliver proactive solutions that increase the performance of your fluid systems.
Formerly Plant Support & Evaluations (PSE), Swagelok Energy Advisors was incorporated in 2008 after PSE's assets were acquired by Swagelok Company. Prior to the acquisition, PSE had served as a valued supplier to Swagelok for many years, sharing with the company a mutual respect for quality, integrity, and customer responsiveness. Swagelok is a major developer and provider of fluid system solutions, including products, assemblies, and services for the research, instrumentation, pharmaceutical, oil and gas, power, petrochemical, alternative fuels and semiconductor industries.
From its headquarters in Solon, Ohio, Swagelok Energy Advisors provides high-quality energy management services to customers around the world. These capabilities are delivered with local support through Swagelok authorized sales and service centers.
Learn more by calling 888-615-3559, or visit swagelokenergy.com.
ABOUT EDMONTON VALVE & FITTING INC.
Edmonton Valve & Fitting Inc. is the local supplier trusted by northern and central Alberta businesses since 1965. We provide critical fluid system components to customers throughout Northern and Central Alberta – including businesses in Edmonton, Lloydminster, the Northwest Territories and the Yukon Territory.
Learn more by calling 780-437-0640, or visit edmonton.swagelok.com
###